If you've found yourself on a diet and health kick this past year, you are not alone.
According to a recent survey conducted by the U.S. Centers for Disease Control and Prevention, nearly 50% of U.S. adults have tried to lose weight within the last year.
The study also found that a greater percentage of women (56.4%) versus men (41.7%) tried to shed pounds. And those in a higher income bracket tried to lose weight more than lower household incomes.
Of those aiming to takeoff weight, the three most popular methods were exercise, followed by calorie reduction and finally eating more fruit and veggies. The least popular weight-loss method was skipping meals.
Whether or not you're on a diet, these statistics show that now is a great time to buy weight-loss stocks.
Two stocks catering to health and fitness have been on an absolute tear over the past year with hardly any headwinds in sight.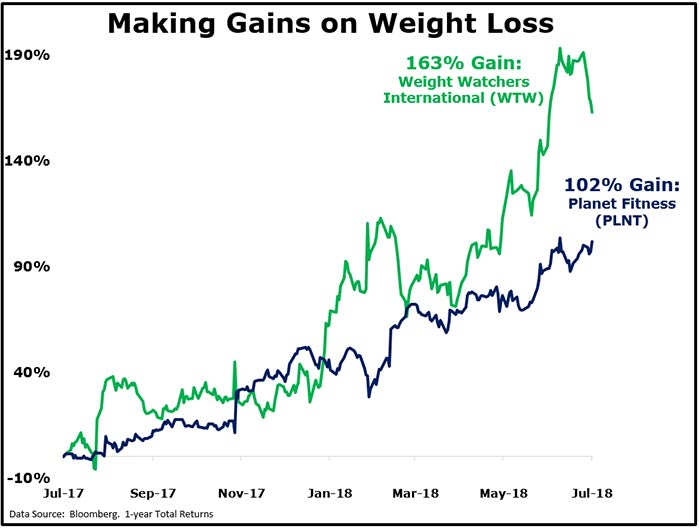 Weight-Loss Stock No. 1
Weight Watchers International Inc. (NYSE: WTW), a provider of weight-control programs, dominates its competition.
Founded in 1963, this $6 billion company with 4.6 million subscribers hosts more than 31,000 weekly meetings in approximately 30 countries.
The company's yearly revenues have risen steadily since 2016, averaging 12% per year, and are expected to reach $1.6 billion for 2018, a 20% increase over last year.
Annual revenue estimates for 2019 and 2020 are even higher at $1.8 billion and $2 billion, respectively.
Also, its free cash flow jumped $95 million since 2016 and is forecast to grow 36% in 2018.
Weight Watchers' share price is on track to continue to rise due to a number of supporting factors, but the company's main gains will likely come from its increase in online subscriber growth.
Simply put, Weight Watchers' digital business is booming. Online subscribers grew by 29% in 2017, and gains for 2018 are projected to match or exceed this number.
Weight-Loss Stock No. 2
Planet Fitness Inc. (NYSE: PLNT) is another way to play the weight-loss trend.
Since 2015, PLNT has grown to be one of the largest and fastest-growing fitness clubs in the U.S.
With over 1,500 facilities, the company has seen its stock price rise by over 100% in the past year.
Annual revenues clocked in at $429 million in 2017 and are forecasted to exceed a half-billion this year.
The company's net income continues to move higher, year over year, and is expected to more than triple in 2018, topping $114.3 million. Net income projections for 2019 and 2020 climb higher at $135 million and $146 million, respectively.
Based on current fundamentals, Planet Fitness packs a punch. The stock could see gains of up to 20% over the next year.
Both of these stocks are positioned to be good long-term buys given recent health trends. Consider adding them to your portfolio today.
Until next time,
Amber Dakar
Senior Research Manager, Banyan Hill Publishing