The markets are officially in correction territory.
The S&P 500 and the Dow Jones Industrial Average are down more than 10% from their January 26 all-time highs. On Thursday, the Dow dropped 1,000 points for the second time in a week.
Markets are facing their worst weekly declines in more than six years. Many investors are on the verge of panic … some are panicking already.
It's safe to say that we have been spoiled by the bull market of the past 10 years. Yes, it's been nearly a decade since the financial crisis. There are quite a few new investors and traders out there who have never seen anything like this before.
These investors came into a market flush with easy money, low interest rates and a bullish euphoria. As a result, U.S. stocks became severely overbought, outstripping rational valuations and rising simply for the sake of higher highs. The markets were long overdue for a pullback, and the result is a correction that is steeper than it needed to be.
But there is one thing that veteran investors like my colleagues here at Banyan Hill know. It's a simple phrase that is also emblazoned on the cover of Douglas Adams' The Hitchhiker's Guide to the Galaxy:
DON'T PANIC.
Emotional trading is the bane of every portfolio's existence. It drives irrational bull markets. It exacerbates market corrections. It makes you sell value stocks amid a correction, and hold former momentum stocks despite heavy losses.
But this correction, too, will pass. You will likely suffer losses. But you can minimize those losses with a balanced portfolio (preferably one with a built-in hedge).
Finally, when the dust clears, you can be ready to snap up value stocks at a serious discount…
The Allure of Bargain Hunting
Last month, Ted Bauman outlined one of the best value plays on the market right now: emerging market exchange-traded funds. Today, I'm going to offer up a stateside alternative in a sector that might just surprise you: brick-and-mortar retail.
We've heard a lot about the death of brick-and-mortar retail locations. The age of online retail is here after all, and Amazon is drinking everyone's milkshakes.
In fact, major retailers like Sears, J.C. Penney, Payless and RadioShack closed more than 5,000 stores last year.
We are barely more than a month into 2018, and the retail group has already announced more than 1,000 closures for the year.
But there is an important section of the retail market that Amazon will never own. It's one my wife and her friends will never let go.
"You just can't browse on Amazon, not like you do in a store," she once told me. "And you miss out finding deals in bargain bins that you just can't find online."
There is one company that has turned "bargain bin" discovery shopping into a successful business model: TJX Companies Inc. (NYSE: TJX).
TJX may not ring a bell for everyone, but I know you've seen their stores. The company runs brand-name discount retailers T.J. Maxx, Marshalls and HomeGoods. TJX buys excess inventory in bulk directly from brand-name manufacturers, allowing it to pass those bulk savings along to customers.
The model is working well. Sales are running strong amid the company's aggressive product marketing campaigns, with TXJ reporting 6% year-over-year growth in the third quarter last month.
What's more, TJX is adding locations, not closing stores. The company plans to add more than 260 stores this year, with long-term plans to add 1,400 stores, double its U.S. store count for T.J. Maxx and Marshalls, and expand HomeGoods to at least 1,000 stores.
"We have customers who come in every day and dig through our bins and shelves hunting for marked-down items," a friend of mine who manages a local HomeGoods store told me in December. He was helping transition management at his current store so he could take over a new one in the Cincinnati area. "We have a loyal following. They just can't get the same experience online."
Because I'm All About Value
The real value in investing in TJX is how beaten down the stock currently is. TJX stock is trading only at about 17 to 18 times next year's earnings, arriving below that of many of its peers in the retail sector. The shares are also trading down more than 10% from its January highs.
While this decline largely paces that of the broader market, remember that TJX stock is not an overhyped speculative or momentum play. In fact, given the company's realistic growth projections, the stock was arguably undervalued prior to the market correction due to Amazon's pressures on the retail sector as a whole.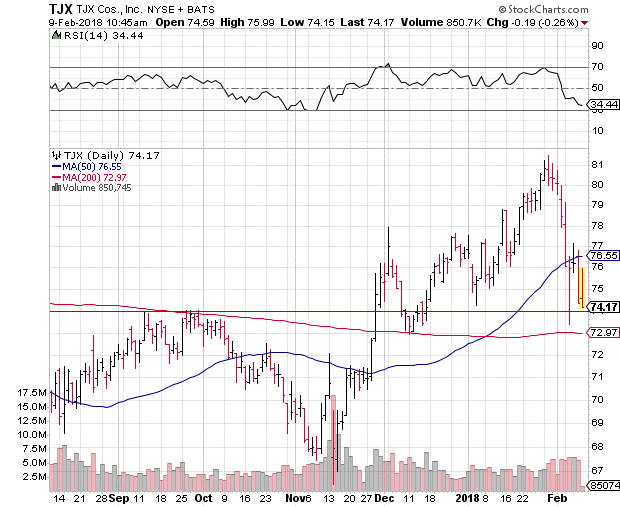 The shares are on the verge of being oversold, making them a bargain at current levels. TJX has pulled back to support at $74, and its 200-day moving average is rising to provide additional support in the area. Because of this, now is a good time for investors to add TJX to their portfolio.
Until next time, good trading!
Joseph Hargett
Assistant Managing Editor, Banyan Hill
Editor's Note: Taxpayers from all walks of life are reaping a $34.6 billion windfall. They're ordinary Americans like Tony Jantzen, a South Dakotan who's set to get "freedom checks" every three months … quarter after quarter … indefinitely. And you could be set up to get 44 supercharged freedom checks over the next year — that's about one every week — if you take action today. After all, if your name isn't on the list … you won't get one cent of all the money being paid out. To find out how you can sign up to start getting freedom checks as soon as possible, simply click here now.