Presidents get their first report card after 100 days. This is often a busy time. Major legislation is proposed, and sometimes it's acted on.
The stock market usually doesn't care. On average, the Dow Jones Industrial Average gains about 3% in the first 100 days.
There are a few exceptions. The Dow soared 75% when President Franklin Roosevelt took office during the Great Depression. The next big gain came when President Richard Nixon promised to end the Vietnam War. Stocks soared 30% in Nixon's first days. His successor, President Gerald Ford, oversaw the largest loss. The Dow fell 16.7% when investors wondered if Ford was up to the task.
The table below shows how the Dow responded to the first 100 days of each president since 1900.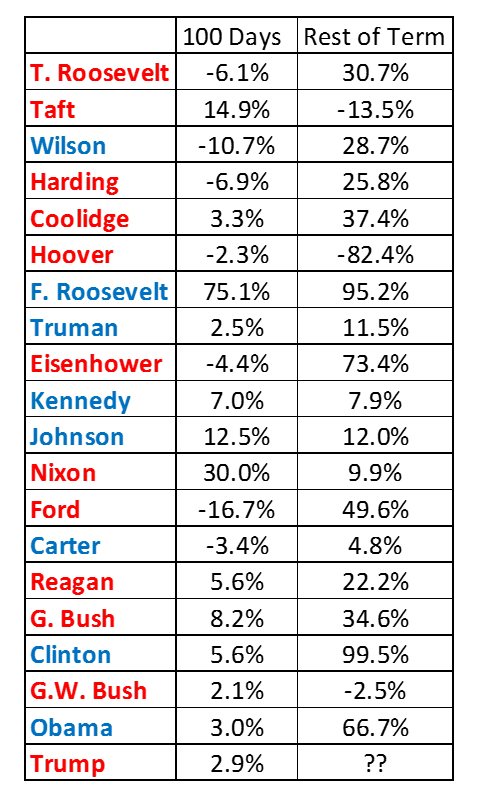 (Source: LPL Research)
Ignoring the outliers, President Donald Trump's first 100 days are average. However, the first 100 days miss Trump's postelection rally.
But postelection rallies are common. They reflect hope. Performance in the first 100 days reflects reality.
In a president's first term, returns average about 7% a year. Gains of that size would give us Dow 29,000 during Trump's first term.
However, we're in the beginning of a bull market that might eventually see the Dow reach 50,000 or higher. Now could be the time for aggressive strategies.
Regards,



Michael Carr, CMT
Editor, Peak Velocity Trader
P.S. Most investors wait for a bull market in stocks, real estate or some other market to come to them, so they leave their financial fate in the hands of Wall Street and Washington. However, if you're like me, you want to find an opportunity and seize it with both hands. My team at Banyan Hill is serious about helping you achieve your financial goals, and we decided that the best way to accomplish that is to show you how in person. That's why we'll be flying into South Florida later this year for our Total Wealth Symposium in Fort Lauderdale, along with an elite group of handpicked investment experts from around the world. Seats for this event are extremely limited and could sell out at any moment, so take advantage of this once-in-a-lifetime opportunity and reserve your seat right now.