Payment solutions firm Visa is working to make cash a thing of the past.
Fifty small-business owners in the food service industry won the recent Visa Cashless Challenge. They each received $10,000 to improve their businesses. These changes included digital commerce enhancements, point-of-sale upgrades, marketing, etc.
Visa has more than $14 billion of cash on its balance sheet. I assure you it will be conducting this challenge again. After all, once there are fewer constraints to "going cashless," more people will do it.
And based on the numbers, they already are.
We can make 30% this year by investing in this cashless revolution.
Here's why…
The Rise of Digital Commerce | Payment Solutions
Cashless transactions are on the rise.
Online database Statista expects mobile and digital payments will double by 2022 to $5.4 trillion.
Consumers make mobile payments using smartphone apps called mobile wallets. Examples include Apple Pay and Samsung Pay.
Usage is on the rise. In 2012, only 40% of the U.S. population had smartphones. Today, 68% do.
Digital commerce occurs on the internet. You can pay with credit cards, direct debit or online payment firms such as PayPal or Alipay.
The number of payments PayPal processed more than doubled over the past three years. It processed 2.2 billion payments in the fourth quarter of last year.
This isn't just a U.S. phenomenon either. Here is a breakdown of the $2.7 trillion in noncash payments:

"Small-business owners across the country see true benefits in moving toward a world more reliant on digital payments," said Melinda Emerson, author of Fix Your Business. "Whether it be reduced insurance costs, time saved not having to rectify drawers or increased efficiency at the point of sale, going cash-free is a great way for small-business owners to make their lives easier — something everybody needs."
There's No Going Back Now
I mentioned above that mobile and digital payments will double within five years. Based on how one frugal old-school company is acting, it may happen faster.
Recently, Walmart and Amazon got into a bidding war to purchase control of Indian e-commerce site Flipkart. They both want access to the retail sector in India.
Can you believe that? Stodgy Arkansas-based Walmart agreed to pay $16 billion for a 77% stake in a startup from India. Historically, Walmart management required low costs and positive margins. Flipkart seeks market share over margins … and regularly loses money.
That's how important the death of cash is to Walmart. It will pay big money for access to e-commerce.
Don't get me wrong; India is an important market. But it isn't the only place we'll see growth…
There are about 2 billion people who live outside a financial system or without permanent access to the internet. As the world becomes more developed, that number will dwindle. And global life without cash will become more ubiquitous.
This is just the way it is.
We aren't going back now.
How to Profit
If you want to play this trend, the easiest way to do so is via the ETFMG Prime Mobile Payments ETF (NYSE: IPAY). IPAY is an exchange-traded fund (ETF) that invests in payment infrastructure, services, processing and solutions.
It directly benefits from the growth in digital commerce and mobile payments. Its largest holdings are Visa, Mastercard, American Express and PayPal. These companies are growing everywhere.
The ETF began trading in July 2015. It's done quite well since the market began to realize cash will become a thing of the past: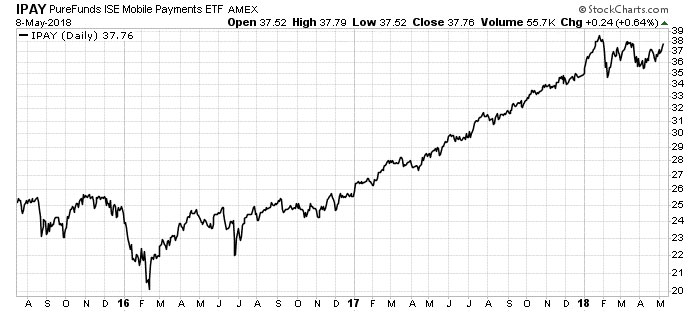 Influential companies like IPAY's Visa are fueling this growth through avenues such as the Visa Cashless Challenge.
I suggest you get on board.
Good investing,
Brian Christopher
Senior Analyst, Banyan Hill Publishing
Editor's Note: When Real Wealth Strategist Editor Matt Badiali stumbled upon "freedom checks," he immediately knew he'd found one of the biggest profit opportunities he'd ever seen. It's like sitting on top of a pile of cash … all you have to do is stake your claim. And if you're open to finding new ways to make money with little risk, your freedom checks could make you incredibly rich. But in order to start grabbing your freedom checks as soon as possible, you need to be signed up by June 1 … so don't wait! For complete details, simply click here now.