Oil prices soared after President Donald Trump announced his intention to remove the U.S. from the multinational nuclear agreement with Iran.
The agreement dates back to 2015 and lifted a number of sanctions in exchange for limits on Iran's nuclear program. In turn, Iran had full access to the international oil market for the first time since 1979.
Many companies rushed into the new market.
So, if sanctions are instituted again, it may not only cut Iran out of the oil market — reducing supply — it could also set back numerous oil deals.
For now, we don't truly know what Trump's announcement means. He could go so far as cutting off Iran's access to the global financial system, or take lesser steps.
Concerns also grew that Iran could destabilize the region. Iran's already engaged in wars in two countries, Syria and Yemen. It's also an important force in Lebanon and at work in other Middle Eastern countries.
Gains in oil seem like a natural response to any action against Iran. But as the chart below shows, oil is now at an extreme level only seen in bubbles.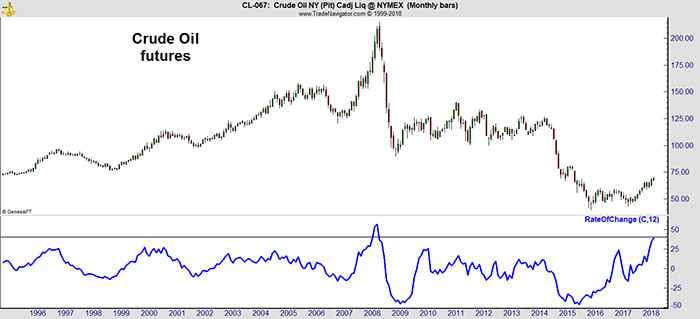 A bubble includes an unsustainably fast price rise. Throughout history, an annualized rate of change of 40% proved untenable in commodity markets.
Markets can't keep up with price gains that large. Oil is now up 40% in the past year, and companies will have to adapt. That means airlines will need to raise prices, as will delivery companies and any business that receives deliveries.
Wages haven't kept pace with the gains either. This means consumers are likely to cut back wherever possible. This should result in lower demand for products made from oil, and history shows that will lead to a price collapse.
Bubbles are rare, so we shouldn't see them very often. The chart above shows just one other bubble in oil, the one that ended in 2008.
But we've seen bubbles in other commodity markets. After prices jumped 40% in a year, we saw prices collapse in sugar, cocoa, coffee, wheat and other markets.
Although all markets are different, this indicator has warned of a collapse in every market, all around the world.
This time might be different, but it's probably not. Oil prices moved up too fast and are set for a fall.
They could move much higher before they fall, but the fall will be steep. And it could mark the beginning of a recession, such as we saw the last time this happened in 2008.
Regards,
Michael Carr, CMT
Editor, Peak Velocity Trader