Bakers, rejoice! The price of sugar is down nearly 45% in nine months.
Our favorite sweetener is in a major bear market, as you can see from the chart below: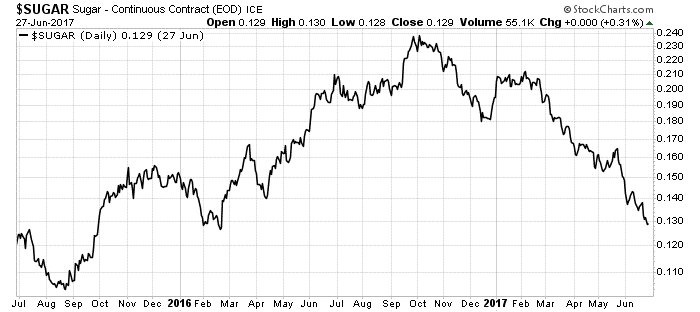 This trend could continue into 2018 as well. India, the second-largest sugar producer in the world, will increase production this fall. The 2017/2018 crop could be 16% to 20% larger than this year's 21 million metric tons.
That could prove troubling for sugar producers such as the Canadian company Rogers Sugar Inc. (Toronto: RSI). According to Bloomberg, Rogers Sugar's earnings will fall from $102.9 million in 2016 to $84.8 million this year. That's an 18% decline, which will hurt its share price. This is not a good time to be long sugar, but it's a great time to be a baker.
Good investing,


Matt Badiali
Editor, Real Wealth Strategist
P.S. I'll be joining Rick Rule, the president and CEO of Sprott Holdings U.S., and many other experts at the 2017 Sprott Natural Resource Symposium in Vancouver, Canada, on July 25 to July 28. Rick has decades of success finding and profiting from opportunities in natural resources, and he knows the best ways to take advantage of the unique opportunities in the natural resource market. For more information on how you can attend this exclusive event, click here for more details.