There's nothing sadder than a new Harley-Davidson "hog" coming off the assembly line…
Only to be greeted by skeptical looks from millennials wondering: "Yo, where's the USB port on this thing, dude?"
I'm joking, but America's premier motorcycle maker recently received an up-close look at the dangers of not paying close enough attention to the trends and tastes of America's millennial generation. Harley-Davidson Inc. (NYSE: HOG) executives had to tell analysts that they now expect to ship roughly 240,000 motorcycles this year, compared to last year's mark of 262,000.
According to analysts at AllianceBernstein, millennials just aren't into motorcycles all that much. Their prediction? No growth — nada — in bike sales despite this generational cohort now hitting their prime years for buying a bike, preferably one with the Harley-Davidson logo on it.
No "Easy Rider"
Basically, "rider growth," as AllianceBernstein defines it in the chart below, "will dip into negative territory in 2017 and stay in negative territory for at least the next five years."
Ouch!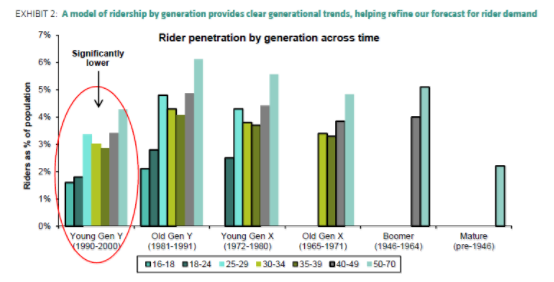 It's not as if a motorcycle maker like Harley-Davidson is ignoring millennials. But as one writer put it, the company is still putting "heritage before innovation" when it comes to its product lineup. That strategy worked for America's baby boomers, but it doesn't compute for millennials.
For Harley-Davidson, that's a problem. The company's stock hasn't made a new all-time high since 2008. The last time its stock came anywhere close was 2014 — the shares are down more than 30% from that level right now.
It just points out something that Profits Unlimited Editor Paul writes about time and time again — millennials are now the defining, target buyer for nearly every discretionary consumer product. Companies that cater to their likes succeed. Those that don't, well … don't succeed.
Kind regards,



Jeff L. Yastine
Editor, Total Wealth Insider