Some investors search for carnage.
I am one of them.
By that, I mean I search for value. When stocks sell off, I swoop in to learn why. If it is less about substance than some other reason, I learn more.
The U.S. markets have been up lately, but many global markets offer exactly the kind of carnage — and value — that I seek.
For example, the Chinese Hang Seng Index is down more than 20% since its peak at the beginning of the year.
Chinese stocks are down because of the trade wars. The "big money" worries President Donald Trump's tariff actions will harm China's economy … and its stocks.
We don't know what the result of this back-and-forth will be.
However, I saw a promising headline from China last week. If it comes true, the stock of a beaten-down company that is based there won't remain at its current low levels. Regardless of what happens with the trade wars.
(Click here to listen to my podcast.)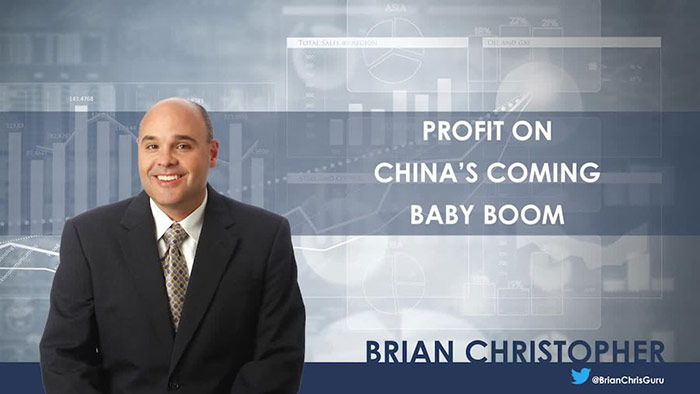 Does China Have Enough People?
China has the highest population of any country. It has nearly 1.4 billion people.
The problem is, less than 30% of them are 24 years of age or younger. In India, 45% of its nearly 1.3 billion people are 24 or younger.
China's state council says a quarter of its people will be 60 or older by 2030. That's up from 13% eight years ago.
The aging population will burden pensions and services. The number of workers is shrinking, while the ranks of retirees grows. Further, the Chinese population could stop growing as the number of women of child-bearing age falls.
The Chinese government knows this is a problem. It should. After all, it created the issue.
In 1979, China unveiled a one-child policy. Local governments limited the number of kids a couple could have.
If people didn't obey, governments carried out sterilizations and abortions. They also fined people.
The country ended the policy two years ago. It now allows couples to have two children.
Today, the government may remove all limits.
The National People's Congress discussed a draft civil code last week. A newspaper tied to China's prosecutor's office said the draft did not refer to "family planning" at all.
Analysts say that means China may raise or even remove the limit of children couples can have. The reason to do so is to increase the population.
If China can increase births, one company would benefit most.
This Company Is Set to Prosper
Fast-growing Global Cord Blood Corp. (NYSE: CO) provides cord blood banking services in China.
Blood from the umbilical cord is full of stem cells. These cells can turn into many types of blood cells, which doctors can use to treat diseases that harm blood and the immune system. They can also use them to treat sickle-cell anemia and certain metabolic issues.
You can see why parents would want to store this blood. The importance of doing so has made Global Cord Blood a cash cow. From March 2007 to June 2018, the number of people who pay to store cord blood increased nearly 30 times.
Today, the company has more than 680,000 customers. And that number will grow.
You see, there are only seven cord blood banking licenses in China … and Global Cord Blood has three of them. It also owns 24% of the licensed cord blood banks in the Shandong province.
Plus, the Chinese agency that issues these licenses will not be granting any new ones before 2020.
Unfortunately for this company, Chinese stocks are currently struggling. Shares of Global Cord Blood have been cut in half over the past year:
The stock has fallen with the rest of the Chinese stock market. The price is almost as cold as the negative-196-degrees-Celsius liquid-nitrogen storage freezer where the company keeps stem cells.
That is our opportunity.
A Shareholder-Friendly Company
The company's share price doesn't reflect its operations. They are humming.
Its free cash flow has been flat or higher every year since its 2009 fiscal year. Free cash flow is cash from operations less capital expenditures.
In its year ended in March, it earned $120 million in free cash flow. That means its shares currently trade for less than seven times free cash flow.
By comparison, the ratio of its peer, Cordlife, is more than 17.
I believe shares of Global Cord Blood will close that gap … and they will skyrocket even higher if the government removes limits on family planning.
There are other reasons to like the stock, too. The company is taking steps to be more shareholder friendly.
In June, it declared its first dividend of $0.08 per share. In its most recent earnings call, management told investors "it is our intention to have a stable dividend policy." That means the company will pay a dividend of at least $0.08 per year, which is currently a 1.2% yield.
It could pay more, too. It could also buy back shares. We'll see what the board decides to do.
The Next Steps
Global Cord Blood is set to prosper, but we don't want to catch a falling knife. Wait until shares move higher to at least $7.50 before you buy.
And please use a limit order. On some days, the stock's volume is less than 100,000 shares.
Good investing,
Brian Christopher
Senior Analyst, Banyan Hill Publishing