Labor Day weekend ended. Reality set in.
Traders returned to a stronger U.S. dollar and struggling emerging markets. The U.S. stock market sold off.
But don't fear. Seasonality is on our side. September is a great time to buy stocks at good prices.
The chart below shows a month-by-month breakdown of the S&P 500 Index. In the last 20 years, its average return is -0.7% in September.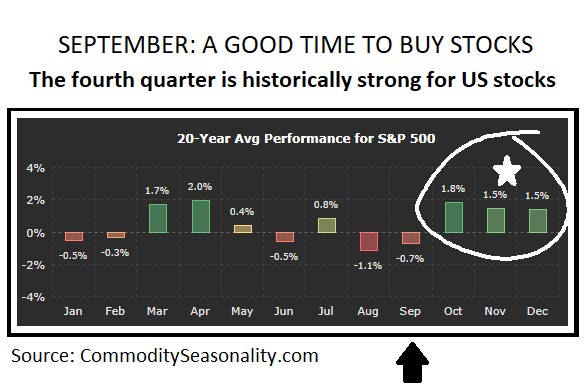 September is a sluggish month for stocks. However, in the following three months, the S&P 500's average return is 1.8%, 1.5% and 1.5%.
Doom and gloom are high this week. History says that will continue for the rest of September. We should welcome a sell-off with hope while others react with fear.
Recession Risk
Besides history, why might stocks sell off this month?
More analysts are predicting recession and a new bear market.
Goldman Sachs developed an indicator to measure market risk. It puts the chance of a major market correction at 75%. Those odds are higher than they were before the recessions in 2001 and 2008.
Goldman's risk indicator monitors market valuations, unemployment, manufacturing, interest rates and inflation.
Inflation is the only measure not indicating elevated risk. It will. When inflation ramps up, interest rates will too. Then economic expansion will peak, and recession will follow.
The risk is real. But a major correction is not imminent. Rather, I expect the opposite.
Inflation remains modest. And interest-rate risk will fade before it flares up. Recession predictions belong in the first quarter of 2019, at the earliest.
In the meantime, there is money to be made.
September's seasonal weakness will usher in strong year-end performance, and your stocks will trade much higher.
Prepare for huge gains in the fourth quarter, when the stock market's uptrend returns.
Good investing,
John Ross
Senior Analyst, Banyan Hill Publishing