We're enjoying the third-longest bull market in history … but many investors are disappointed. Despite its length, the returns of the current bull market have been a little disappointing to many investors.
Below is the history of the Dow Jones Industrial Average since 1900. Secular bull markets, meaning ones that last at least five years, are highlighted in blue. The chart shows that our current bull market is the third most powerful bull market in history, measured both in terms of its average annual gain and its length of time.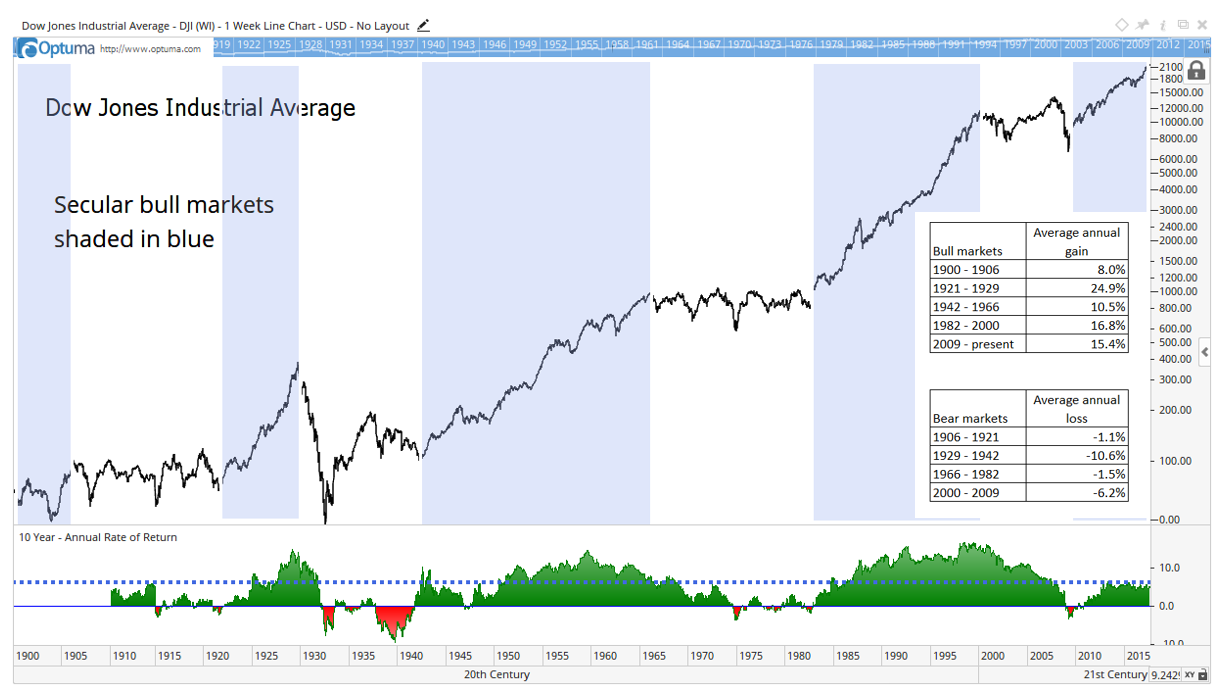 Based on the severity of the bear market that ended in 2009, many analysts expected bigger gains than what we've seen. Analysts tend to believe that markets loosely follow Newton's laws of motion. Newton's third law says: "When one body exerts a force on a second body, the second body simultaneously exerts a force equal in magnitude and opposite in direction on the first body."
Applied to the markets, this means a bull market tends to be proportional to the bear market that came before it. Technical analysts often apply this principle to individual stocks when they analyze charts. Price moves identified with pattern analysis are expected to be symmetrical. A $10 trading range, for example, is expected to set up a price move of $10.
The steep losses of 2008 and 2009 should have been followed by large gains. But that didn't happen.
The indicator at the bottom of the chart shows the average annual gain for the previous 10 years. The horizontal dashed line shows the largest average gain in the current bull market. Previous bull markets included years of gains that were better than investors earned in this current bull market.
Fortunately, the bull market isn't over yet. It's possible stock prices will jump with a final surge to end the bull market. That could boost the average annual return to what it should have been, even as it sets up the next bear market.
Regards,



Michael Carr, CMT
Editor, Peak Velocity Trader