A gentleman nicknamed the "Cable Cowboy" is the largest private landowner in the United States.
You might be wondering: How did he earn the money to buy the 2.2 million acres he controls?
That's important to me. I monitor the activities of successful investors.
They got that way by making solid decisions. I have learned over the years that following their lead can be a smart and profitable move.
Long story short, the Cable Cowboy made his money by doing deals.
One of the companies he owns a big stake in is a leading online marketplace. And he recently grew that stake.
The stock is public, so we can buy shares, too…
Who Is Buying?
Following company insiders — directors, officers and large owners — into trades can be quite lucrative.
Insiders have many reasons to sell shares. They have fewer reasons to reach into their own pockets to buy shares, though. The top reason — by far — is to make money.
As such, I like to check Securities and Exchange Commission filings to learn what insiders are up to. You see, insiders must report their trades to the commission.
I just reviewed the top five insider purchases over the past three months. These are the winners:
I have mentioned Energen and International Flavors & Fragrances in these pages before.
One insider purchase that struck me wasn't in the top five, however. It was No. 18, but it was still a large transaction. It involved the Cable Cowboy.
In July of this year, GCI Liberty bought 220,000 shares of online loan broker LendingTree Inc. (Nasdaq: TREE). That increased its stake in the company to 27.6%.
We Aspire to Be Serially Successful
John Malone is the chairman of GCI Liberty. He is also known as the Cable Cowboy.
Malone is a cowboy. He loves horses. His horse Tapwrit won the 2017 Belmont Stakes.
More important to his pocketbook, Malone has made deals in the media space during the past five decades.
In 1973, Malone joined cable TV firm TCI at the request of its founder. At the time, TCI had annual sales of $12 million … and owed creditors more than 10 times that much!
Twenty-six years later, Malone sold TCI to AT&T for more than $50 billion
Since then, he continues to do deals in the space via his Liberty Media companies.
Forbes says he's worth $7.5 billion.
That's why when one of Malone's companies bought nearly $50 million in shares of LendingTree, we paid attention.
The dollar amount was large. More notable, though, is he now owns nearly 28% of the company.
Malone believes in LendingTree's prospects.
Company Fundamentals
LendingTree connects online consumers with more than 500 lenders. It offers products like real estate loans, auto loans, credit cards, personal loans, student loans and others.
Competing lenders provide customers with quotes for each product. LendingTree collects a fee.
And it is growing fast: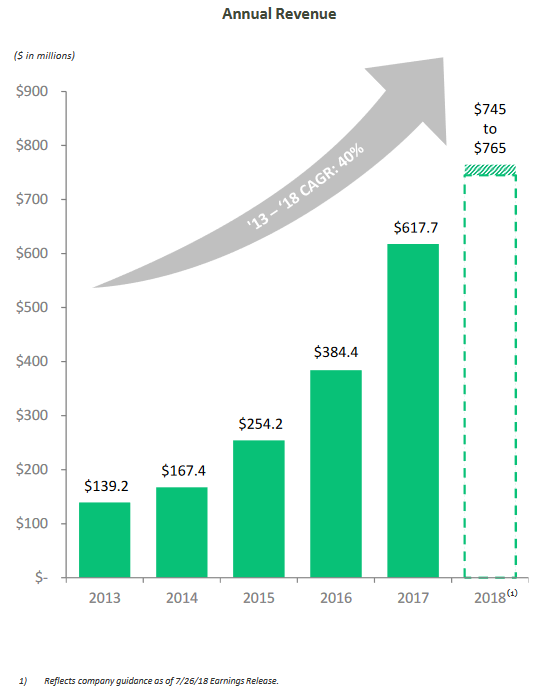 (Source: LendingTree Investor Presentation, Q2 2018)
At their current pace, sales will grow more than five times over the past five years.
Consensus analysts expect earnings before interest, taxes, depreciation and amortization to nearly double from last year, to $126 million.
One reason for that growth is the company's My LendingTree platform. In addition to enabling transactions, it helps the company create a relationship with users.
As of the end of June, it had 8.8 million customers who receive free credit scores, credit monitoring and recommendations. That creates stickiness for the site.
Users also receive referrals for certain services. Through June, users generated more than 20% of LendingTree leads. Last quarter, sales from this platform more than doubled from last year.
At this point, My LendingTree provides only 10% of sales … but it is growing fast.
LendingTree just bought a company that helps students and alums refinance their student loans. Management — and everyone else — saw an obvious need for that service. They are growing it as well.
Plus, the Press Room section of the LendingTree.com site is a great resource as well. It posts solid articles about current financial trends.
This is also part of the strategy: Provide content that gets people to return to your site. Then, when readers need a financial product, they start there.
What to Do
If what I have described appeals to you, I encourage you to go to LendingTree's site to see what it offers.
Is it a site you or someone else would use? This is a simple common-sense review you can do to learn about the company and its products.
The Cable Cowboy likes the prospects of LendingTree. That's why I wanted to learn more about it.
There is a lot of room for growth here. I suggest you look into shares today.
Malone was able to buy his latest tranche for about $214 each. He was able to buy them within a couple dollars of their 52-week low.
Shares have moved up since then. You should be able to get them for less than $245.
Good investing,
Brian Christopher
Senior Analyst, Banyan Hill Publishing
Editor's Note: To hear more of Brian's insights on insider buying, click on the image below.