Sometimes us investment analysts can take ourselves a little too seriously.
Have you noticed this?
We talk about fancy-sounding ratios and words like "synergies."
Maybe they make us feel smart.
Whatever the reason, I've noticed over my more than two decades of investing that sometimes these things don't matter.
Please hear me out. This concept is important for you to consider.
I want to encourage you to not take investing too seriously.
Investing can be cryptic at times, no doubt. There are often reasons to have valid questions.
But — sometimes — we see a situation that common sense tells us is a good buy.
When you see something like this, take a step back and a deep breath, and try not to overthink it.
It is often just as simple as it looks.
I'll give you an example of this with a picture below…
Insider Buying
The stock whose price is presented below can make us at least 20% if common sense prevails:
(Source: Bloomberg)
The green symbols are insider buys. The red are sells.
During the period presented above — March 1, 2017, to August 6, 2018 — insiders bought 7.1 million shares of this stock. They sold 24,000.
The most recent plunge in the stock price was on May 4 of this year. It's just to the right of the last red symbol.
Since then, one insider has continued to buy.
Common sense suggests that matters.
Someone Loves This Stock   
The company profiled in the above chart is International Flavors & Fragrances Inc. (NYSE: IFF). It creates unique scents for fragrances, beauty products, detergents and household goods. And tastes for foods and beverages.
The company generated $3.4 billion in sales last year. More than half were from fragrances.
Singapore-based Winder Investment likes IFF.
Winder became a significant owner of IFF shares in October 2016 when it took an 11% stake in the company.
The firm began buying shares on the open market in March 2017. Today, it owns 19.2% of the outstanding shares.
Why Did Shares Fall?
On May 4, IFF announced it is buying its peer, Israel-based Frutarom.
Frutarom is a leader in natural products and health ingredients.
It generated $1.4 billion in sales last year. Three-quarters of these were from natural food flavors.
Combining the two companies makes strategic sense: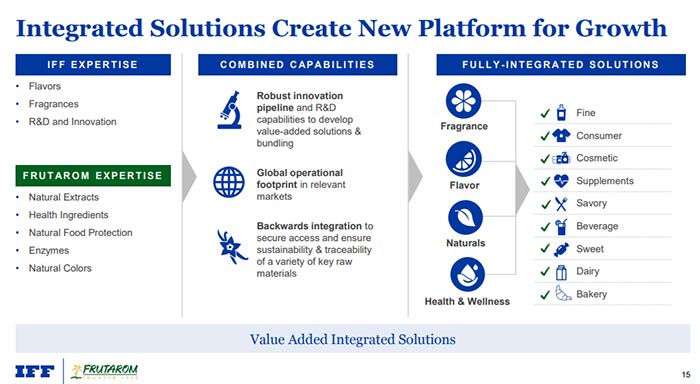 (Source: IFF & Frutarom transaction presentation, May 7, 2018)
Geographically, the companies mesh, too.
Almost 80% of Frutarom's sales are in Europe, Africa and the Middle East. Most of IFF's sales are outside this region.
So, joining the firms will combine complementary expertise and global reach.
Thus far, the market doesn't agree. It thinks IFF is overpaying. IFF remains down 15% from its year-to-date high.
But Winder doesn't agree with the market. It has purchased 4.5 million IFF shares since the May 4 announcement.
This is real money. Winder has spent at least $900 million on open market purchases since March of last year. (That doesn't include the 11% stake it bought two years ago.)
What Should You Do?
Common sense can be a powerful thing … if you take it for what it's worth.
There is some serious money investing in a deal that makes a lot of sense on paper.
Frutarom shareholders recently approved the deal. The two companies are one step closer to merging.
Plus, the market is starting to come around on IFF. The price is up more than $10 per share from its bottom at the end of May. But it still has a ways to go.
I recommend using a limit order and waiting until IFF dips below $130 to buy it.
If all works out, we can ride shares back up to at least $155 … and earn a 2.2% yield while we wait.
That's a decent return for following your gut.
Good investing,
Brian Christopher
Senior Analyst, Banyan Hill Publishing