As regular readers know, I'm an old-school gamer. My first video game system was an Atari 2600, with Combat!, Pitfall, Q-Bert … even the much maligned E.T. the Extra-Terrestrial game.
But gaming has changed considerably since the days of the Atari 2600. No longer do you just buy a video game and play it at home.
Now, you can go online and play with friends around the world thanks to the internet.
You can also get regular updates for the game you're playing, including additional content, game expansions and a wealth of cosmetic and game-effecting content.
A little over a year ago, game makers seized the idea of selling gamers ways to customize and improve their in-game characters. Players can make their in-game characters look and feel unique and more powerful for a small fee.
And Electronic Arts Inc. (Nasdaq: EA) and Activision Blizzard Inc. (Nasdaq: ATVI) get to pad their bottom line.
These customizations are available via microtransactions.
Gamers pay anywhere from 99 cents to $100 to acquire customizable content for their game of choice, which can add millions in extra revenue outside the cost of the original game.
But EA and Activision may have taken this idea of microtransactions and in-game customization a little too far. Instead of allowing gamers to directly buy the customization they want for their characters (a specific gun, a particular outfit, etc.), they bundled all of the custom in-game content into one purchasable product.
These products were so successful that they were largely responsible for the rapid ascent of stocks in both EA and Activision, during the past two years.
They have also been responsible for the decline of both EA and Activision stocks in the past four months…
Teaching Your Kids to Gamble
Loot boxes are in-game microtransactions that use real-world currency to purchase in-game packages. These packages can include new characters, weapons, costumes and even dance moves.
The problem with loot boxes isn't their content or even their costs. It's that the content inside is randomized. In purchasing one, you are not buying a specific costume or weapon. You are buying the chance to get the item or customization you are looking for.
In other words, you have no idea what you are getting until you buy a loot box. If you don't get what you want, you must buy another loot box.
If you think that sounds a bit like gambling, you're not alone. And it's has lawmakers around the globe more than a little concerned.
Earlier this year, the U.K. Gambling Commission released a report stating that the number of children with gambling problems, "quadrupled to more than 50,000 in just two years."
What's more, the report states that about 450,000 children — ages 11 to 16 — bet regularly. That's more than those who have taken drugs or drunk alcohol.
While the study didn't specifically call out loot boxes, the video game microtransactions are getting all the blame.
Loot boxes have been banned in Belgium, China and Japan. Both the U.K. and Australia are also considering legislation to curtail or outright ban them.
Furthermore, the Federal Trade Commission (FTC) just announced last week that it was looking into the matter of loot boxes.
"Children may be particularly susceptible to engaging with these in-game purchases, which are often considered integral components of video games," said Sen. Maggie Hassan (D-N.H.), who asked the FTC to look into the connection between loot boxes and children gambling.
And this is not an isolated problem for a handful of games.
Nearly all of the most popular gaming titles — such as Overwatch, Fortnite, Call of Duty, PlayerUnknown (PubG), FIFA 18, etc. — utilize the loot box system.
Last year, analysts projected that loot boxes could be a $50 billion market for video game makers.
That's a considerable boost to any game makers bottom line. It's easy to see why the big dogs like EA and Activision dove into loot boxes head first.
But this backlash has cost them dearly.
Beaten Down EA and Activision
To see how bad the loot box backlash has hurt EA and Activision, you need to look no further than the charts below:
For EA, it's been a slow grind lower. Support for loot boxes and backlash from some gaming communities have steadily eroded the company's revenue streams.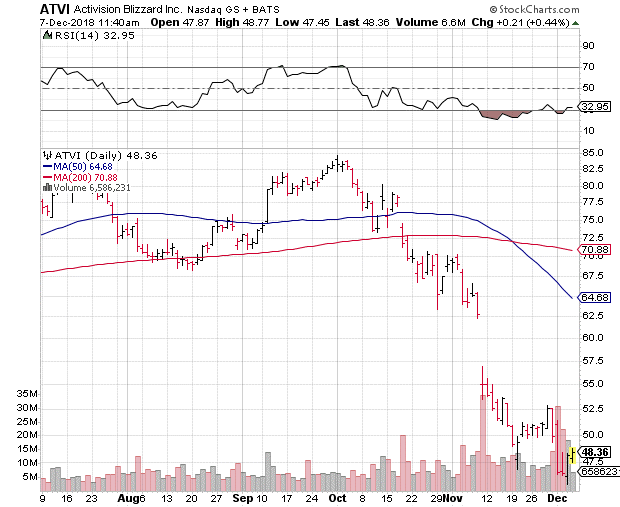 For Activision, the biggest blow came when the company lowered guidance last month, due to the growing threat from international governments banning loot boxes.
Looking at both charts, there's a temptation to think that a bottom might be forming. Both EA and ATVI appear to be consolidating even amid the recent market turmoil.
However, keep in mind that several countries have yet to officially weigh in on loot boxes — the U.S. and U.K. among them. Action (or the lack thereof) from these countries could be key to the $50 billion loot box market.
So, while I believe that both EA and ATVI are solid long-term bets, investors should wait for the loot box debacle to finally resolve, before jumping into these beaten down video game makers. There may be better entry prices for both EA and ATVI down the road.
Until next time, good trading!
Regards,
Joseph Hargett
Assistant Managing Editor, Banyan Hill Publishing