I want to pass along what I believe is the single best story in mining today: the underinvestment in critical metals like copper.
For nearly two decades, mining companies pulled ore out of the ground, but did not reinvest capital in finding more. That's a problem because mines run out of ore as surely as a loaf of bread runs out of slices.
When the mine is used up, if you don't have a new mine, you are sunk. Mining companies can't pull that metal out of thin air.
Unfortunately, low prices for a long time forced mining companies to cut some operations. The first operation cut is exploration. However, exploration is what finds new mines.
Now that we can see the huge deficit in copper supply that's looming in the near future, metal prices are starting to move up. You can see how the copper price is moving in the chart below: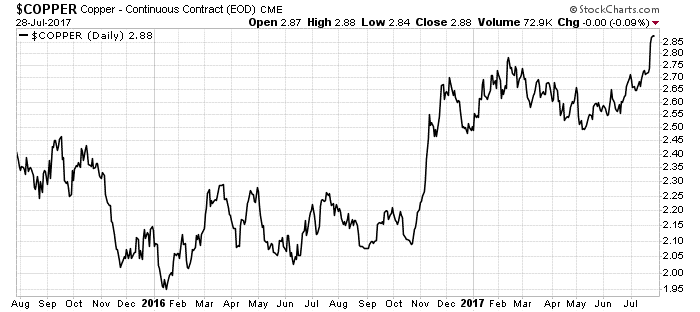 Copper just hit its highest price in two years. The bull market in this critical metal is just getting started. Investors looking to make big money over the next few years should get into copper miners right away, which is why I have several of these companies in the Real Wealth Strategist portfolio.
Good investing,


Matt Badiali,
Editor, Real Wealth Strategist