Tariffs are back in the news. But policy makers seem unable to understand what that means to consumers.
President Donald Trump announced that he would impose a 25% tariff on imported steel and a 10% tariff on aluminum. Some economists and consumers worry this will raise prices.
Billionaire Secretary of Commerce Wilbur Ross explained this won't be a problem for consumers. He told CNBC the costs are small, citing a can of soup as an example.
"In a can of Campbell's Soup, there are about 2.6 pennies worth of steel. So if that goes up by 25%, that's about six-tenths of 1 cent on the price on a can of Campbell's Soup."
Some might not expect the well-heeled Ross to do his own grocery shopping. But, he noted: "I just bought this can today at a 7-Eleven … and it priced at $1.99. Who in the world is going to be too bothered?"
Most consumers will be bothered.
Even before tariffs, many consumers seek out bargains at grocery stores rather than paying the higher prices at convenience stores like 7-Eleven. Ross' comments could lead to concerns that policy makers are out of touch and set to repeat mistakes like those seen in the 1930s.
The Fed's Big Mistake
The chart below shows that stock prices dipped in the face of tariffs in the Great Depression.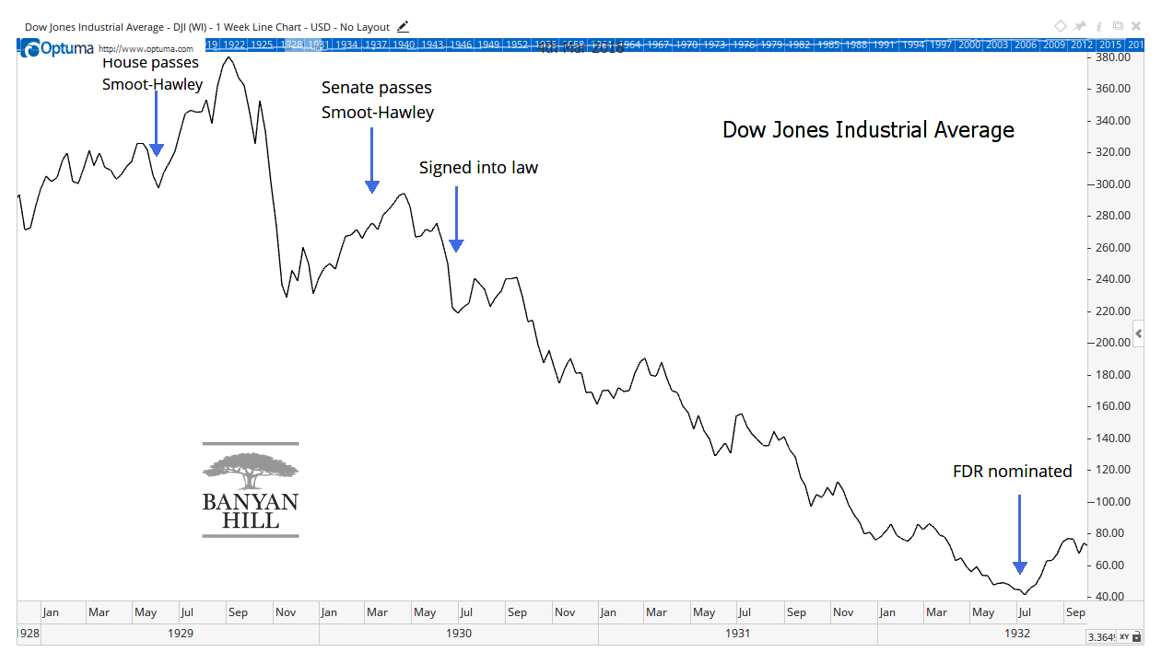 Many economists say that tariffs weren't the primary economic problem at that time. Federal Reserve tightening also contributed to the economic downturn.
Well…
The Fed is insisting on tightening again.
Fed Chair Jerome Powell said in a recent Congressional testimony that the economy is growing, and government deficits and tax cuts should lead to more growth. He noted the Fed plans to raise rates three times this year but will need to review recent data with an eye toward four hikes.
The Fed is also unwinding quantitative easing. Officials are removing $20 billion of bonds a month in the first quarter of 2018. Each quarter, the amount increases by $10 billion a month, reaching $50 billion a month in October.
The Fed won't be buying bonds just as the federal governments budget deficit heads back to $1 trillion a year. Less demand for bonds means interest rates will rise.
Companies that borrow money will pay more in interest. That puts upward pressure on prices for many companies.
So the Fed is in position to raise rates, just like it did in the Great Depression. Tariffs will hurt international trade, just like in the Great Depression. Stocks will fall, just like they did in the Great Depression.
It's still possible to avoid a trade war. But if there is one, expect the consequences to be dire.
Regards,
Michael Carr, CMT
Editor, Peak Velocity Trader