Last Sunday, bitcoin, the leading cryptocurrency, gained recognition after the Chicago Board Options Exchange (CBOE) added bitcoin futures contracts for investors to trade it under the symbol XBT.
And a larger futures market, the Chicago Mercantile Exchange (CME), plans to launch its own bitcoin futures this weekend.
Everyone is talking about it.
The buzz around the office this week was moving well beyond typical water cooler talk.
People are buying "rigs" to mine bitcoin and other cryptocurrencies. Others are buying partial coins.
I still don't know what to think of bitcoin — whether it will hit $100,000, or collapse back to fractions of a penny, like it was worth when it first started.
The first purchase recorded in bitcoin was in 2010, where a bitcoin enthusiast bought two large pizzas from a fellow enthusiast, all in bitcoin.
The price?
Just 10,000 bitcoins. In 2010, that equated to $25, or $0.0025 per bitcoin.
Today, 10,000 bitcoins are worth more than $170 million.
That is one expensive pizza today. But it also goes to show that the first people mining bitcoin had no idea of the value it would have less than a decade later.
Still, here we are with everyone buying hand over fist into the mysterious asset … and maybe you have too.
But now that it is a tradeable asset for many that have access to either futures or their own Coinbase account, let's look at a key characteristic of the currency.
When I pull it up in a seasonal trend, a familiar pattern stands out. Take a look: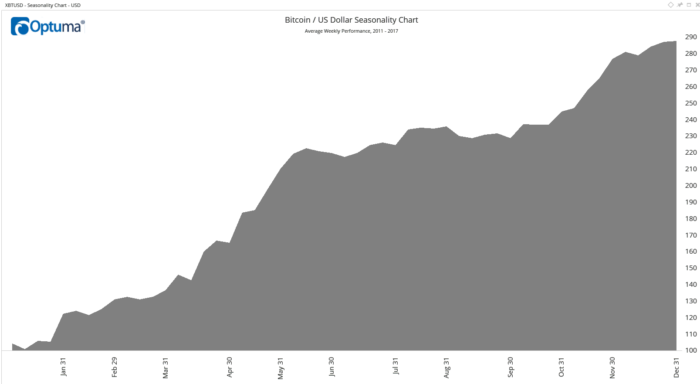 You can see how bitcoin has a strong rally from the end of January through May. Then, it experiences a similar "sell in May and go away" phenomenon that the broader markets exhibit, as it flatlines until November. And then we have an end-of-the-year rally.
This year was unique for bitcoin, since the price went parabolic as reports of its acceptance spread and the futures market is allowing institutional investors to buy in.
We can expect bitcoin to begin to trade along other typical stock market patterns, like seasonality, next year, and this chart will be one I use to time any investments into it.
Regards,
Chad Shoop, CMT
Editor, Automatic Profits Alert