Apple Inc. (Nasdaq: AAPL) stepped into the earnings confessional this week, and everyone on Wall Street is praising the company's quarterly results. Revenue and earnings exceeded expectations, and even fourth-quarter guidance came in better than expected. However, everyone is overlooking some rather key risks that could negatively affect AAPL stock.
Let's take a moment to recap what's driving AAPL stock's post-earnings bounce:
Second-quarter earnings rose 17.6% year-over-year to $1.67 per share versus expectations for $1.57 per share.
Revenue gained 7.2% to $45.41 billion, topping the consensus for $44.89 billion.
Apple guided fourth-quarter sales in a range of $49 billion to $52 billion, above estimates for $49.18 billion.
On the surface, Apple's third-quarter report looks impressive. What's more, analysts concerned about a delayed delivery for the iPhone 8 interpreted the better-than-expected fourth-quarter guidance as meaning that reports of a potential iPhone delay were overblown — prompting a slew of upgrades and price-target increases that exacerbated AAPL stock's rally.
But there are several key points that very few Apple watchers are talking about. And once Wall Street takes note, it could spell trouble for AAPL stock.
Apple Cored
If you dig deeper into Apple's earnings report, you'll notice that this quarter's results were not driven by the iPhone, but rather by services and iPad sales. Services revenue grew an impressive 22% year-over-year, while enterprise partnerships helped boost iPad sales. Analysts have called this an important development for Apple, leading to the most attention non-iPhone products have seen in quite some time. It's a telling development.
For instance, iPhone sales of 41.3 million were essentially flat with the same quarter last year, and actually fell from 50.8 million in the second quarter. What's more, Apple continues to struggle with iPhone sales in the Chinese market, with recent data suggesting the company is poised to drop out of the top 5 vendors list in China.
And the iPhone isn't the only concern. Apple's iPod is essentially dead. The device that brought AAPL stock back from the brink of obsolescence is on its way out after Apple discontinued all but one version of the iconic handheld music player last week.
What's Left for Apple?
Apple has ridden the coattails of its iPods and iPhones for so long, there isn't much left outside of those key products. As my colleague Paul once put it: "Apple has fallen behind on the very thing that people want from it — innovation." Gone are the days of Steve Jobs' dramatic pauses and "Oh … one more thing …" at Apple product announcements and investor weeks.
The company is now content with incremental improvements to existing devices and services. Even the highly anticipated iPhone 8 will arrive with few innovative features, and most of those are present in competing smartphones already on the market.
All is not lost for buy-and-hold Apple investors, though. Despite declining iPhone sales, Apple products are more about value than volume. Despite falling way behind key competitors in the PC, mobile phone and tablet markets, Apple still holds the lion's share of revenue. For instance, despite controlling just 11% of the smartphone market in 2016, Apple captured 36% of global end-user spending.
What's more, the company is working on cutting-edge artificial intelligence (AI) software for the automotive market. Apple CEO Tim Cook calls autonomous driving "the mother of all AI projects." And if Apple plays its cards right, AI and self-driving cars could be the company's next "one more thing."
Investing in Apple Stock
If you're a buy-and-hold trader, I'm not convinced that now is the time to sell AAPL stock. But it is most certainly not the time to buy. AAPL stock's post-earnings rally was stopped cold just short of round-number resistance at $160. Furthermore, the shares are on the verge of overbought territory, with their 14-day Relative Strength Index rising sharply in the past week.
This combination of technical indicators doesn't bode well for AAPL stock's short-term outlook, and the shares are already exhibiting signs of weakness due to a lack of follow-through buying after earnings.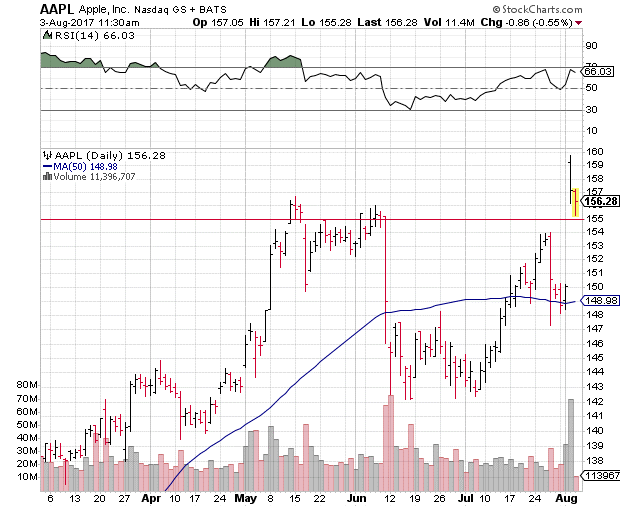 The key test for AAPL stock will be the $155 area. This region was home to heavy resistance in May and June, and could act as a short-term backstop for Apple over the next few weeks. If this region fails to hold support, AAPL could find itself retesting the $150 area and its 50-day moving average in short order. A pullback to $150 would make a good buying opportunity for long-term buy-and-hold AAPL stock traders.
As you can see, AAPL stock is no longer the "sure thing" investment it once was — either over the short term or the long term given the company's lack of innovation. In fact, Apple is often subject to an increasingly fickle cult following on Wall Street and a wealth of emotional trading pitfalls.
Until next time, good trading!
Regards,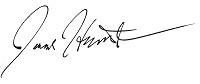 Joseph Hargett
Assistant Managing Editor, Banyan Hill Publishing
Editor's Note: Divorces, accidents, bankruptcies, foreclosures, DUIs, wage garnishments, and a slew of other lawsuits and legal hassles happen every single day. Attorney and former U.S. Congressman Bob Bauman's one-of-a-kind guide enables you to make unparalleled legal decisions based on the most up-to-date knowledge. After reading this book, you won't ever have to live in fear of anyone getting their hands on your hard-earned money. To find out how you can get your free copy of Lawyer-Proof Your Life, click here.