"Daddy, I think I like the 'mini-shows' better than watching football," Lilly, my 7-year-old daughter, told me during the Steelers-Patriots NFL playoff game.
The lack of love for football from my youngest daughter isn't unusual … she's at that age where Shopkins, Legos and Minecraft rule the day. But as she was humming the tune to some commercial that just aired, it dawned on me that she really hasn't had much experience with commercials — and likely never will.
Born at the back end of Generation X, I'm kind of the odd man out when it comes to TV and cable consumption for my generation. Apparently Gen Xers watch more TV than any other demographic save the baby boomers, with average time spent watching cable and broadcast TV coming in at just under 30 hours a week, according to the latest Nielsen data.
But aside from Cincinnati Bengals games and NFL playoff games — and my wife's guilty pleasure of watching Gordon Ramsay and Jimmy Fallon — our TV has eschewed typical network and cable viewing, essentially becoming a big-screen Netflix box.
My family isn't alone in this trend. And if Netflix's recent quarterly update is any indication, it's now a global movement. In fact, Netflix is poised to pound cable, network TV and its competitors into the ground — much like the beating the Patriots handed out to the Steelers two weeks ago.
And here's why…
I Drink Your Milkshake!
There was supposed to be serious competition. All of the taking heads on Wall Street said so. Netflix Inc. (Nasdaq: NFLX) was going to bleed itself to death trying to defend its market share from the likes of Amazon, Hulu, HBO and various offerings from the major broadcast networks. And content providers were going to charge increasingly greater sums as they launched their own competing services.
That threat has yet to materialize.
In fact, the results have been quite the opposite: Netflix is putting the competition to shame. According to data from industry research firm Parrot Analytics, Netflix originals are eight times as popular as similar offerings from both Hulu and Amazon Video. The chart below says it all: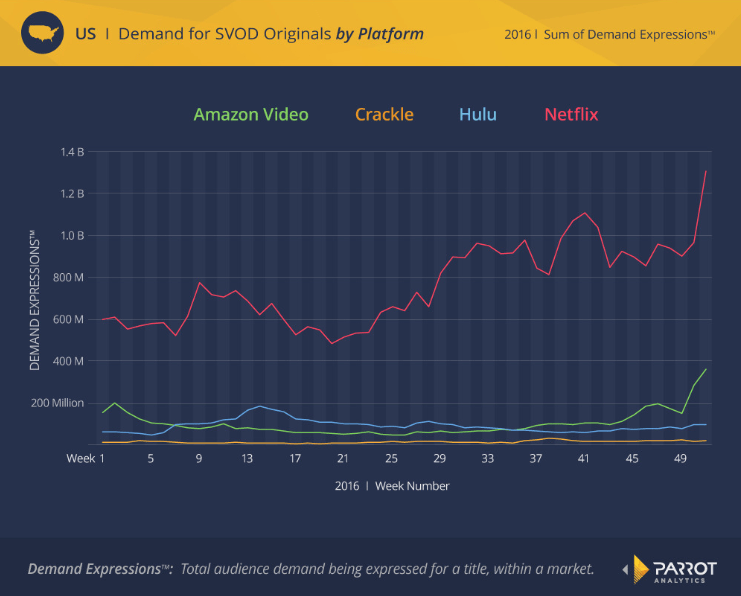 There was also much crowing about Netflix's price hike at the beginning of 2016. NFLX stock even took a hit as industry analysts projected declining revenue and falling subscription numbers due to the hike. And yet, in a recent survey by Forrester, Netflix subscribers appear relatively happy with their price point.
Only 5% of U.S. adult respondents to the survey thought Netflix was too expensive at $9.99 per month, versus 11% for Hulu ($7.99 per month) and 18% for HBO ($14.99 per month). The networks' online offerings were rated even worse.
Again … where's the competition?
The World Is Not Enough
At the beginning of the year, amid cries of oversaturation in the U.S. market, Netflix boldly claimed it was expanding into 130 countries worldwide. The announcement was greeted with skepticism on Wall Street … after all, Amazon Video was already pushing into several other countries and had met with mixed success.
So when Netflix began losing money on its international ambitions — about $300 million in 2016 — many talking heads were quick to say: "We told you so!"
But Netflix's fourth-quarter earnings report told a different story. The company was making headway, adding roughly 5 million subscribers internationally on the quarter — more than double its domestic rise of about 2 million. What's more, Netflix actually posted a profit of $16 million from international operations on the quarter. While that's a small drop in the bucket compared to domestic revenue and prior losses for the unit, it backs CEO Reed Hastings' forecast that international operations will turn a profit in 2017.
Investing in NFLX
While there are hotter stocks in the tech sector, NFLX has been a solid investment for the past several years. The shares are up nearly 170% since the beginning of 2014, and while NFLX stumbled a bit early in 2016, the stock ended the year with a bang. In fact, NFLX is up more than 50% since August, driving higher along support at its 10- and 20-day moving averages.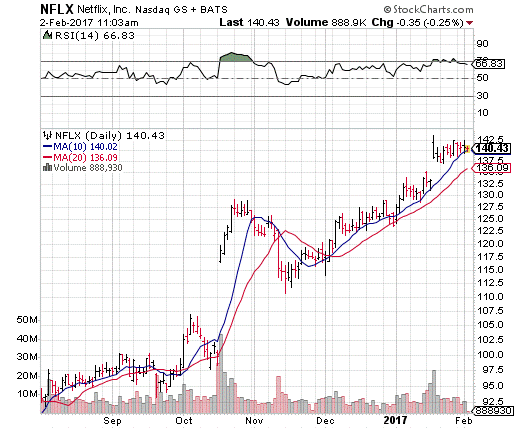 With enthusiasm growing in the wake of Netflix's fourth-quarter report, the shares are beginning to flirt with overbought territory. I would expect NFLX to consolidate those gains in the $140 region over the short term as traders readjust to the new highs and take some profits off the table. But over the long term, NFLX remains a solid buy due to accelerating growth overseas and a lack of serious competition.
On a final note, my colleague Paul will be hosting the Extreme Fortunes Summit very soon. If you're looking for red-hot investment research capable of significantly supercharging your portfolio to the tune of triple-digit gains, I highly recommend signing up for this summit as soon as possible. Click here to learn more now.
Until next time, good trading!
Regards,
Joseph Hargett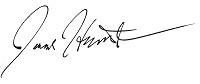 Assistant Managing Editor, Banyan Hill