Cash is always king.
It gives the holder of the cash unlimited possibilities.
If you have cash, it allows you to swoop into depressed markets and grab assets that, otherwise, lenders are scared to risk their capital on. It allows corporations to pay dividends, buy back stock or dive into a new market without impacting their bottom line in a negative way.
Cash is where opportunities lie.
That's why the world's best corporation at hoarding this cash should be at the top of your radar.
Apple Inc. (Nasdaq: AAPL), the company behind the iPhone and Mac computers, announced last week during its earnings release that its cash position swelled to nearly $250 billion. Take a look: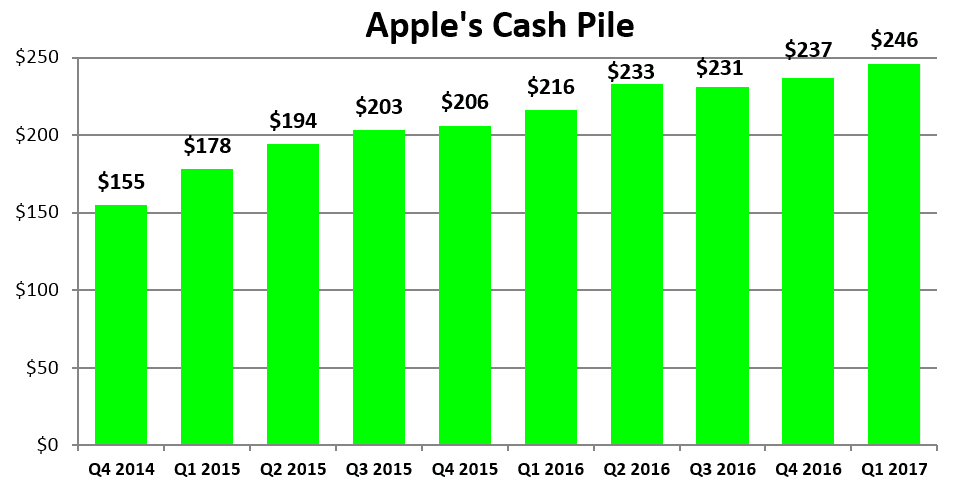 To put this cash hoard into perspective, there are only 14 companies in the world with a market cap —the total value of their entire company — that is above $250 billion (and one is Apple itself).
Companies such as Amazon, Facebook, Alphabet (aka Google), Microsoft, AT&T and Exxon are a few of those (to give you an idea of what it takes to be a company with a $250 billion market cap).
This is one impressive feat for any company to accomplish, but Apple has done it the best.
And trading at just 15 times earnings and paying out a modest 1.8% annual dividend, Apple is a stock you should have in your portfolio.
Cash gives Apple the ability to dive into any growth avenue that seems fit, and at $250 billion in cash, that is practically any company in the world besides the other 13 companies with market caps north of that.
There's no telling what Apple has up its sleeve to continue growth, but the possibilities are endless … and that's something worth investing in.
Regards,
Chad Shoop, CMT


Editor, Pure Income
P.S. Did you know that an average of 43 stocks rally more than 1,000% each year? My college Paul is getting ready to share his secret strategy for identifying these phenomenal stocks and locking in massive profits. Click here to sign up for Paul's Extreme Fortunes Summit webinar, where he'll explain everything you need to know in order to have an unbelievable investment portfolio.