I dropped my daughter off at school last week, and it didn't even occur to me…
"Make sure she has a jacket tomorrow," her teacher said when I picked her up. "She was freezing today."
That's when I realized here in South Florida, the weather finally hit the 60s.
In some parts of the country, that's not too cold.
But in Florida, where we get used to 80-degree weather year-round, 68 degrees is chilly.
It is our first sign that fall is here, and winter is around the corner.
It's easy to forget about the seasons when living in Florida, but luckily for me, I have the market to keep me updated.
I know this time of the year is one of the best times to jump into the stock market. The best six months for the market starts now.
Sell in May and Go Away
You've all heard of the worst six months of the year, I'm sure. It's easy to remember because of the old adage on Wall Street: "Sell in May and go away."
This refers to the worst six months — May through October.
Now, you can probably guess what the best six months are — November through April.
It sounds a bit too simple. You simply exit the market from May through October, and own it from November through April, and you're missing out on the weakest period for the stock market. But that just happens to be the case.
Here is a seasonality chart of the S&P 500 Index going back to 1987: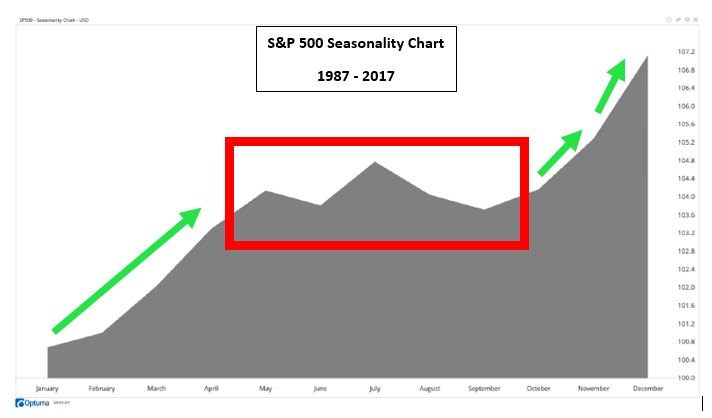 I highlighted a few parts of this. You'll notice the green arrows highlighting the uptrends for the index.
Then there's a big red box in the middle. This covers the "sell in May and go away" period, from May through October. You can see the flatness that is present over those six months. Then, boom! November and December see two of the sharpest rallies on the whole chart.
Biotech's Prime Season
Of course, owning the S&P 500 is one way to benefit. Another is to buy sectors that historically outperformed in these time periods.
Today, I'll share with you a sector's prime season that starts in just two days — the biotechnology prime season.
This is a seasonal trend in the biotech sector that has seen it rise consistently from November 1 through March 29 — that is your holding period.
It covers most of the best six-month period for the stock market, while giving you exposure to a sector that can produce much larger returns than the S&P 500.
An exchange-traded fund that tracks the sector is the iShares Nasdaq Biotechnology ETF (Nasdaq: IBB).
The sector has been under pressure in October, with the ETF sliding about 6%.
But as we enter its best-performing period, the decline in price gives us an excellent opportunity to benefit from a quick rebound.
Regards,


Chad Shoop, CMT
Editor, Automatic Profits Alert