My head is in the clouds today; both figuratively and somewhat literally. On one hand, I have a rather nasty head cold I picked up from my 6-year-old daughter. (Cold medicine is interesting with coffee.) On the other, I'm working in the cloud right now.
As many regular Banyan Hill readers know, I work remotely from the Cincinnati, Ohio, region. Meanwhile, Banyan Hill's home office is in Delray Beach, Florida.
My working arrangement is only possible because of the cloud. It allows my children to go to the school they have always attended, and my wife to maintain her teaching position of more than 20 years.
Without the cloud, my family would have been uprooted and moved to South Florida years ago.
But it goes further than that. I have been working in the cloud since 2011. Back then, I struck out on my own and started writing for various online and print financial publications, none of which were in the Cincinnati area.
My story is not unique. Millions of millennials have taken the same path toward employment. They work remotely providing a variety of services, all of which are facilitated by large data centers located around the globe — i.e., the cloud.
This is the new jobs marketplace. One that is no longer 9 to 5. (Sorry, Dolly Parton.) One that no longer requires a daily commute to work, or a cubicle desk under halogen bulbs.
Millennials' desire for workplace mobility is one of the reasons my colleague Paul is a huge fan of the cloud sector. Today, I'm going to highlight my own cloud company … one that has "takeover target" written all over it.
Cloud Computing Upstart
Dropbox Inc. (Nasdaq: DBX) is a hot commodity in the world of cloud computing. The company's platform allows individuals, teams and organizations to create and share content online. It has been around since 2007, but only went public this March.
During its time as a private company, Dropbox gained a considerable following for its cloud storage service. It was among the few such services with a free storage option. You could upgrade your storage space for a subscription fee.
To this day, I only know one person who actively uses Dropbox: my colleague Ted Bauman. Ted is Banyan Hill's digital security expert, so that should tell you something right there.
In fact, Dropbox was among those companies that wrote a brief for the Supreme Court in a recent mobile privacy case. The company urged the court to rethink its views on when people have a reasonable expectation of privacy.
The result of that Supreme Court case was in favor of privacy, telling law enforcement departments that they needed a warrant to obtain mobile phone location data.
"This case is not about 'using a phone' or a person's movement at a particular time," Chief Justice John Roberts wrote. "It is about a detailed chronicle of a person's physical presence compiled every day, every moment, over several years."
This ruling bodes well for companies like Dropbox, which handle massive amounts of data from both private and corporate customers.
The Digital Workforce Takeover Target
With a focus on privacy and a wealth of customers already using the service, Dropbox quickly became the subject of takeover speculation after going public in March. Just before Dropbox went public, it announced a partnership with Salesforce.com Inc. (NYSE: CRM).
That partnership opened the doors to creating Dropbox folders within Salesforce's cloud ecosystem. The pair has also integrated Dropbox with Quip, Salesforce's workflow tool.
This cozy relationship has sparked rumors that Salesforce could acquire the cloud-storage specialist. After all, Salesforce already owns 6.45% of Dropbox, according to FactSet data. Salesforce also bought about 4.9 million DBX shares in the first quarter.
But Salesforce isn't the only potential suitor. Barclays speculated back in February that Apple should buy Dropbox to push iCloud as a corporate competitor to services from Microsoft, Alphabet and Box Inc. (NYSE: BOX).
Just one look at DBX stock's recent price action will tell you how interested the market is in a Dropbox acquisition.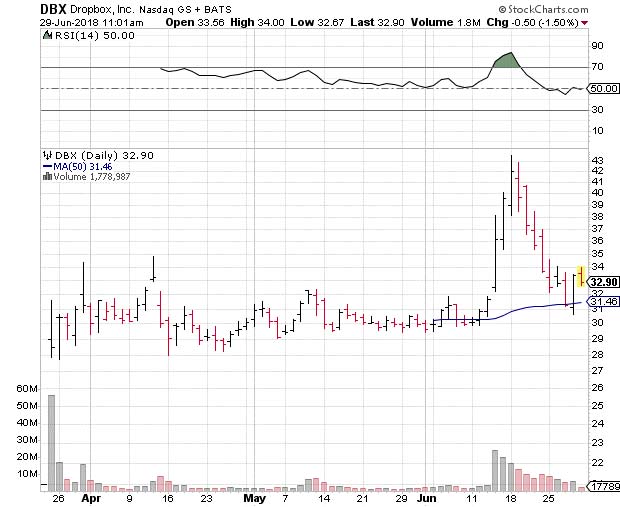 That spike to $43.50 in the chart above likely occurred due to rumors that Salesforce was finally going to make a move. Neither company commented on the speculation, and DBX stock returned to its previous trading range. Well, almost its previous range.
The stock has now found support near $32, which was previously the upper rail of DBX's sideways trend channel. DBX stock also respected its emerging 50-day moving average, and rebounded sharply higher following this week's test. In short, this indicates a wealth of buying power in the market for DBX.
Investors are buying pullbacks and ready to run on any acquisition rumor. This means quite a bit of upside volatility, but it also means that investors are willing to step in and buy any dip in DBX stock.
On its own, Dropbox is a solid cloud company with an excellent privacy record and a loyal customer following. The shares are certainly a long-term buy on Dropbox's business model alone. Add in the fact that someone is likely to buy out the company within the next year, and DBX stock could be the surprise profit generator your portfolio has been looking for.
Until next time, good trading!
Regards,
Joseph Hargett
Assistant Managing Editor, Banyan Hill Publishing