Editor's Note: Welcome to our week-long special series! Our editors for both the Sovereign Investor Daily and Winning Investor Daily are looking ahead to 2018 and providing their insights into what they believe will be the big movers and shakers for the new year. They are also looking at critical steps you can take to preserve and grow your wealth. Happy reading! — Jocelynn Smith, Senior Managing Editor
At its most recent meeting, the Federal Reserve raised interest rates. This was in line with expectations. Analysts warned the rate hike was coming for months.
But the Fed delivered a surprising outlook for next year: Officials expect strong economic growth.
We saw this when the Fed released an update to its dot plot. Analysts think of this chart as the clearest explanation of what the Fed's plans are.
In the dot plot, each voting member of the Federal Reserve places a dot where they expect interest rates to be in the future.
Below is the latest dot plot. This chart also shows previous forecasts and the market forecast for interest rates over the next year.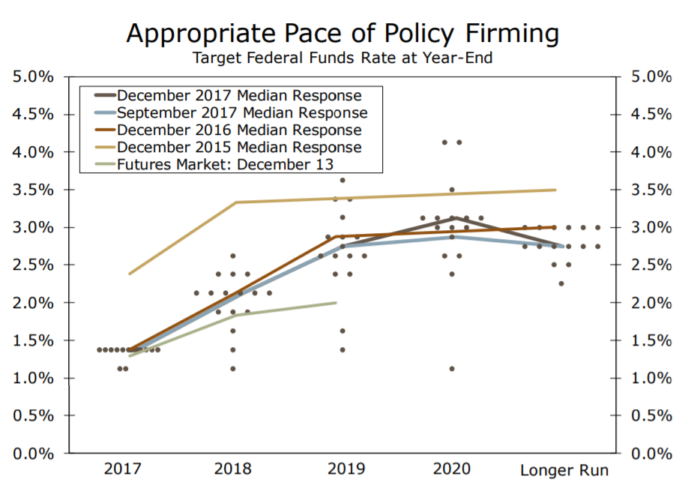 (Source: Wells Fargo Securities Economics Group)
The line at the top is the Fed's forecast from December 2015. Official interest-rate forecasts have fallen steadily lower over time.
The line at the bottom is the market's forecast for short-term interest rates. Traders don't believe the Fed will raise rates three times in the next year.
Interest rates reflect the cost of money. When the economy is growing, demand for money increases.
Businesses want to borrow to build new factories and stores. Consumers want to borrow to buy large items like cars. The Fed raises rates to slow growth because it believes growth will lead to inflation.
Normal short-term rates would be about 3.5%. That's the level the Fed expected in 2015. Because of slow growth, the Fed now expects rates to be about 2.75%. The market is pricing in rates of about 2%.
Low rates mean slow economic growth. Traders are expecting the next recession, possibly starting at the end of next year. This is consistent with my indicators. Stock prices tend to rally strongly before a recession.
All this means, now is the time to buy stocks for quick gains before the next recession hits.
Regards,

Michael Carr, CMT
Editor, Peak Velocity Trader