When it comes to economic statistics, there is a wealth of data out there.
Some are accurate, some aren't.
My advice is to stick with data that tend to be fairly accurate in their readings.
With that said, one data point that I follow when it comes to gross domestic product (GDP) is the Atlanta Federal Reserve's GDPNow forecast.
Essentially, the Atlanta Fed developed a model based on the existing GDP model, adding data to replace estimates as the data is collected.
So the further along we are in the quarter, the more accurate the forecast becomes.
We are now just two weeks away from the advance estimate of first-quarter GDP growth, so let's take a look at where it's at: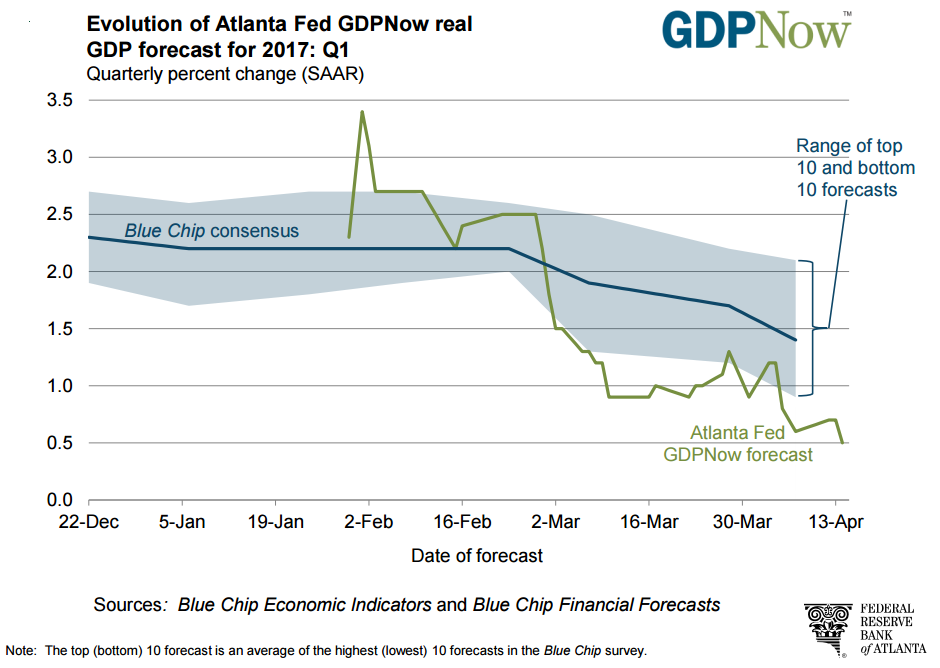 The latest reading is 0.5% growth in the first quarter.
For comparison, GDP grew at 2.1% in the fourth quarter and 3.5% in the third quarter.
But, more importantly, this disappointing growth takes momentum away from President Donald Trump, who likely was expecting to see a boost in the first quarter after he became president.
This shows that change isn't immediate and that he will need a lot more than just jawboning to move the needle on GDP.
His is likely out of reach for 2017 if first-quarter GDP holds around 0.5%. The U.S. economy would need to grow by more than 5% on average in each of the remaining quarters, which isn't likely.
We will have to wait and see if Trump's administration can get us to 4% GDP in one of the remaining three years of his term.
Regards,


Chad Shoop, CMT
Editor, Automatic Profits Alert