A company recently sold itself … and it made me a lot of money.
Fortress Investment Group is a global investment firm that manages $41 billion of assets. It is diverse. Fortress serves clients with investment interests that include credit, real estate and private equity.
Just before the end of last year, it sold itself to Japanese tech giant SoftBank.
It isn't common for a tech company to buy an investment fund, but the leaders of both businesses don't do things like everyone else.
SoftBank's leader, Masayoshi Son, is a 60-year-old multibillionaire. Last year, Son announced the firm planned to invest $100 billion in the technology of the future, which includes artificial intelligence, robotics and the Internet of Things. He said: "The SoftBank Vision Fund … will help build and grow businesses creating the foundational platforms of the next stage of the Information Revolution."
Fortress is one of those platforms. I owned its shares. When the Vision Fund bought the company, it handed me a tidy profit.
Fortress co-founder Wes Edens deserves much of the credit for that. Like Son, he is also a visionary. So when I learned about Edens' next venture, I had to go see it myself…
An Exciting Growth Story
Here's a stock chart of Edens' company. It is telling: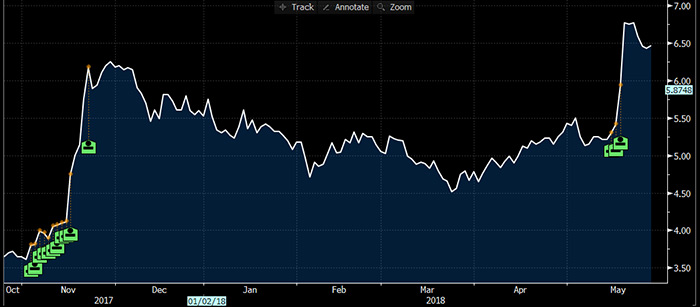 (Source: Bloomberg)
Edens is the chairman. He is also a co-owner of the NBA's Milwaukee Bucks and an esports brand. The green symbols above reflect his purchases of company stock.
I believe in the power of insider buying. Academics have highlighted and investors have enjoyed the benefits of following directors and officers into trades.
The name of Edens' company is Drive Shack Inc. (NYSE: DS). And it is an exciting growth story.
The company is building golf entertainment venues across the country. It opened its first facility to the public on April 25 in Orlando, Florida. I visited a couple weeks later. (You can't miss it if you're on State Road 417. It's across from Lake Nona's Medical City.)
I spoke to more than 10 employees while I was there — management, bartenders, servers, etc. And lots of customers, too. They are equally excited about the prospects of this concept.
So is the market. News of the opening helped send shares to nearly $7.
Insider Buying
You can see on the chart that shares had zoomed higher earlier, too.
As he did in May, Edens was buying shares with his own cash on the open market last November.
In both cases, shares shot higher. The market welcomed his belief in the company's growth efforts.
To date, buying with Edens has been a smart move. In November last year, he bought just over 1.2 million shares for about $4.18 each. Shares jumped to more than $6 later that month.
Then, during three days in mid-May (i.e., two weeks ago), Edens bought more than 450,000 shares for $5.42 each. Since then, the share price has increased nearly 20%.
Overall, since December 2016, Edens has bought more than 6.3 million shares with his own money. He paid about $4.44 a share for them. Shares are close to $6.50 today.
What's Next
Drive Shack has been in the news. The Golf Channel featured its new venue shortly after it opened. Other golf-focused outlets as well as local, regional and national media sources have featured it, too.
The facility is beautiful. The staff is professional. The demand is real.
If you like to golf or want to learn, you can hit balls, take lessons and play games.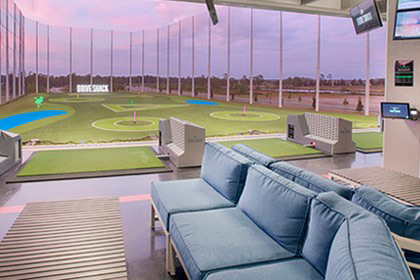 (Source: Drive Shack)
But that's not all.
The food — and the service — was excellent. I also shot baskets and played video games at its second-floor game lounge. The venue is perfect for birthday parties or any reason you have to celebrate.
Businesses have already held meetings and team building events at the facility. There are private indoor and outdoor event spaces on the premises.
Drive Shack is building five more sites to open before the end of next year. They are in the following locations:
West Palm Beach, Florida.
Eventually, Drive Shack is targeting 50 markets across the U.S. … and plans to grow globally as well.
The company will learn with each venue it opens.
Drive Shack Is the Real Deal
All in all, this is an exciting growth story.
I expect shares could fall a bit more from current levels as they did after Edens bought last year. I would look to buy below $6 per share.
But make no mistake, we want to emulate Edens. His Drive Shack story is real, and the value is there … so long as management can continue to execute.
I suggest you look into shares today.
Good investing,
Brian Christopher
Senior Analyst, Banyan Hill Publishing
Editor's Note: If you own any U.S. assets — such as stocks, bonds, real estate or even a small business — then it's not a matter of if you'll be sued … it's a matter of when you'll be hit with an outrageous lawsuit. After all, 41,095 Americas are sued every single day. That's why it's critical you either spend thousands of dollars talking to your lawyer about how to protect yourself … or you simply claim your FREE copy of Lawyer-Proof Your Life right away. To find out more, click here now.