It's playoff season.
No, I'm not talking about this weekend's World Cup match between Croatia and France.
It's too early for the Major League Baseball playoffs and too late for the NBA Finals.
More specifically, it's Overwatch League playoff season.
Tonight, June 13, the Philadelphia Fusion looks to fend off the Boston Uprising. Tomorrow, June 14, the London Spitfire will try to come back against the Los Angeles Gladiators.
I'm aware that, to most of you, none of those team names sound familiar. And they wouldn't, unless you're into the rapidly growing world of esports.
Esports is where competitors play video games in front of a live audience. There are paid players, teams and leagues for a variety of different games. And viewers (mostly millennials) are tuning in by the thousands and millions to watch.
This month, that viewership is going mainstream. Walt Disney's ESPN announced a multiyear deal to carry the Overwatch League playoff series. No longer will viewers be stuck with livestreams on Twitch via their computer monitors and mobile phone screens.
And that's not all. Right now, a $10 million esports stadium is being constructed in Arlington, Texas. Esports Stadium Arlington will be a state-of-the-art esports venue encompassing 100,000 square feet, with capacity for 1,000 spectators.
If this sounds a bit crazy, it's because the U.S. is a bit behind the times on esports. Watching professionals play video games is already big business in many countries around the world.
Last year's League of Legends esports championship was held at Beijing's Bird's Nest sports stadium. Forty thousand people filled this former Olympic stadium to watch professionals play video games.
It's a growing market with massive potential. Analysts estimate the esports market could grow to as much as $2.3 billion by 2022. It's no wonder stadiums are being built and cable TV deals are being made.
Esports has hit prime time.
The question is, do you even know where to begin to invest in esports? Never fear. Today, I'm giving you four trading ideas with considerable upside potential to get you started.
The Big Names in Esports
The good news is that you may already be invested in esports and not even know it.
Before the ESPN broadcast deal, Twitch was where the majority watched esports. If your portfolio is diversified, you may already own Twitch's parent company, Amazon.
Back in 2014, Amazon bought Twitch for $970 million. With it, Amazon got some 55 million-plus viewers and the inside edge on esports viewership. But Twitch has largely been an afterthought for Amazon.
For more of a pure play on esports, we need to look elsewhere:
Activision Blizzard Inc. (Nasdaq: ATVI)
As the ESPN broadcast deal indicates, Overwatch is currently one of the most popular games in esports.  And that has been very lucrative for maker Activision Blizzard.
The company is also far from a one-hit wonder, making blockbuster titles like the Call of Duty series, Destiny, Warcraft, Diablo and the online card game Hearthstone.
The latter already has an esports following, though nothing like Overwatch. Meanwhile, many analysts expect Activision to launch Call of Duty, Warcraft and Diablo esports leagues in the future.
Activision Blizzard is clearly positioned at the forefront of the esports movement. However, this potential market isn't yet factored into ATVI's stock price.
In the chart below, you can see the ESPN bump in ATVI stock, which has the shares trading north of $80. I would expect this bump to create a bit of short-term turbulence that could prompt a round of profit-taking.
You can buy ATVI right now and be fine from a long-term perspective. But for the best entry price, wait for ATVI to pull back to the $77 to $78 region.
Tencent Holdings Ltd. (OTC: TCEHY)
Technically, Tencent is just as diversified as Amazon (if not more so). This Chinese firm has its fingers in practically everything.
However, Tencent specializes in internet value-added services, online advertising services and online games.
Tencent's entry into the esports market is mega-hit Fortnite from Epic Games. Tencent owns a 40% stake in Epic Games, giving it exposure to Fortnite's massive player base of more than 125 million gamers.
Tencent also has stakes in several other major games and publishers, positioning it well to take advantage of the next esports breakout title.
Unfortunately, TCEHY only trades over-the-counter (OTC) in the U.S., making it a bit hard for many (especially Robinhood traders) to access.
However, you need to find access to this stock. The U.S.-China trade war situation has Chinese stocks trading at a massive discount, whether or not the trade situation has anything to do with their market.
Tencent is just such a company that should emerge relatively unscathed from even a full-blown trade war.
TCEHY stock is trading near 52-week lows at key technical support near $48. There has rarely been a better time to get in on this esports leader.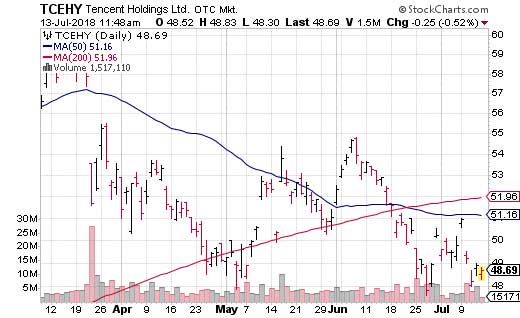 Huya Inc. (NYSE: HUYA)
Online video streaming company Huya is China's equivalent to Twitch, offering a livestreaming platform for gamers.
While Huya isn't raking in the dough just yet, it's well on its way there. During last month's quarterly report, Huya said revenue surged 111.5% to $134.5 million.
Given that the Chinese are using old Olympic stadiums to host esports events, Huya should continue to see this kind of growth going forward.
What's more, Huya stock is relatively new to Wall Street, having just completed its initial public offering (IPO) in May. Despite that, the shares are off to a hot start, soaring from an IPO price of $12 to roughly $37.50 today.
Huya stock is off its mid-June highs near $50 and in the process of bouncing from price support near $30. We're catching it on the upswing, so look for a buy range of $37 to $40, especially since Huya is holding up so well despite trade war fears.
The ETFMG Video Game Tech ETF (NYSE: GAMR)
Finally, if digging through the individual picks isn't quite your thing, or if you'd rather bet on a basket of stocks, there's the ETFMG Video Game Tech exchange-traded fund (ETF).
It's tough to know when the next big esports game will hit, or what publisher will make it. GAMR offers a nice and tidy solution, and gives you access to not only esports companies, but hot mobile gaming firms as well.
Top holdings in GAMR include Activision Blizzard, Tencent, NCSoft, Capcom, Konami and Square Enix — many of which do not trade in the U.S., even on the OTC market.
Now is a good time to add GAMR to your portfolio. The ETF is fresh off a test of support at its 200-day trend line and is looking to break out above its 50-day trend line.
The shares are currently consolidating into support at $50, putting GAMR in a buy range of $50 to $51 before the ETF breaks above its 50-day trend line and takes off.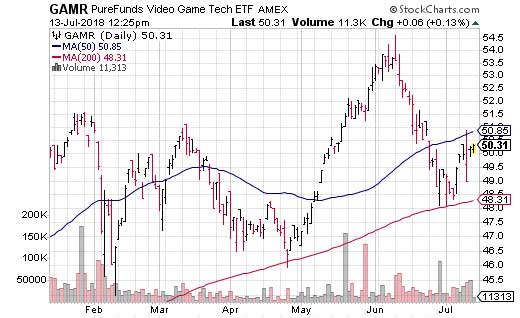 So, these four picks should get you started with esports investing as the industry grows into a $2.3 billion market.
Until next time, good trading!
Regards,
Joseph Hargett
Assistant Managing Editor, Banyan Hill Publishing