Oklahoma just became the 30th U.S. state to legalize some form of cannabis use. However, the future of cannabis is unfolding north of the border.
Canada will become the first G7 nation to legalize marijuana in all forms this October. As you can imagine, the hype around Canadian marijuana stocks is enormous.
In the U.S., legal cannabis sales exceeded $6 billion in 2017. And it's not without some merit. I fully expect the sector to spawn some huge gains.
I'm not alone, either.
Jason Spatafora, a Miami-based trader and investor, said: "[Marijuana] is to Canada what Silicon Valley is to the U.S."
The problem is that most American investors can't invest in Canadian stocks. And the marijuana space is plagued by frauds and failures.
Instant Star Power
The Canadian stock market is full of tiny cannabis companies that were gold mining companies in the last boom.
The classic example is Newstrike Resources Ltd. (TSX-V: HIP). The former Canadian-listed gold miner ran through all its cash without any success during the bear market in mining.
Then along came some interested investors with a new idea: growing cannabis in Canada. Through a "reverse merger" process, Newstrike ditched gold mining and got into marijuana.
One of Canada's favorite bands, The Tragically Hip, became major backers. That gave Newstrike instant star power.
Shares that languished below CA$0.05 in 2016 rocketed to CA$3 during the hype. That's a huge, 5,900% gain.
However, shares then fell back to CA$0.50 today.
Marijuana Is a Major New Sector
Few former mining companies will achieve Newstrike's success because they won't have rock stars behind them.
The risk in Canada's marijuana space is extraordinarily high. According to The New Yorker, over 30 failed junior mining companies jumped into the cannabis sector. Mostly as growers.
Right now, growers have a niche market, similar to craft beer makers. However, the fear is that once cannabis is fully legalized, major tobacco and alcohol companies will get involved. When that happens, competition will grow, forcing prices down.
For interested investors based here in the U.S., there are some exchange-traded funds (ETFs) with marijuana exposure.
The ETFMG Alternative Harvest ETF (NYSE: MJ) holds $380 million in assets.
It invests primarily in Canadian marijuana companies. Its largest position is in a marijuana grower, The Green Organic Dutchman Holdings (7.5%).
Another fund available for U.S. investors is the recently launched AdvisorShares Vice ETF (Nasdaq: ACT):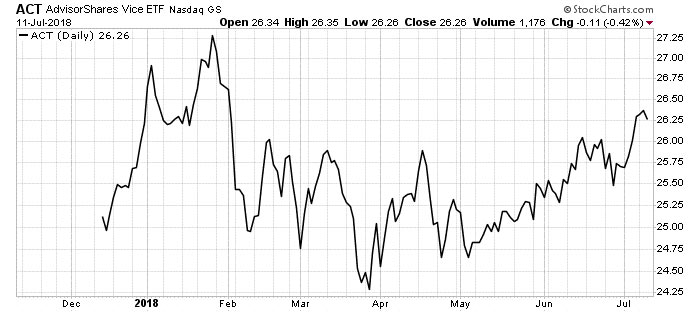 The fund focuses on alcohol, tobacco and marijuana. This entire sector will benefit from legal marijuana. Both Altria, a major tobacco company, and Constellation Brands, a major brewer, own stakes in marijuana producers. The fund also invests directly in marijuana stocks.
This is a major new sector that will only grow larger. Everyone should have exposure, however small, to marijuana ahead of Canada's legalization.
Good investing,
Matt Badiali
Editor, Real Wealth Strategist