It seems like China is a bad word in some places today.
U.S.-China relations are not in a good spot.
The U.S. Department of Justice is seeking to file charges against one of China's largest companies and its CEO. But this isn't just any CEO … she's the daughter of one of China's richest people.
If the U.S. and China can't reach a trade agreement by March 1, the U.S. will increase tariffs on another $200 billion of Chinese goods.
That doesn't sound great … unless you're a contrarian.
If everyone hates China today, it could be a great place to look for investment ideas.
A Lot of People to Connect
We know China's economy has seen a lot of fast growth.
Much of this continues today.
China's population is about 1.39 billion people, give or take.
China's Internet Network Information Center says almost 58% of these people are on the internet.
That may sound like a lot. But it pales in comparison to countries like the U.S., South Korea and Japan.
In the U.S, more than 88% of people have access to the internet.
So, China's economy has some room for growth in this respect. Huge growth.
And Chinese users are already on mobile.
More than 97% of them accessed the web on their mobile devices in 2017.
That means Chinese users are familiar with mobile payments.
Vaunted investment firm KKR guesstimates the Chinese made 37 times more mobile payments than Americans did in 2017.
Who Benefits From This?
The user benefits from a more convenient, electronic lifestyle.
But you already knew that.
The other winners are the companies that offer the services or make them happen.
These firms trade on the U.S. and Chinese stock markets. You can buy them on their own or via an exchange-traded fund (ETF).
One of the best examples is the KraneShares CSI China Internet ETF (NYSE: KWEB).
This is a simple, one-click way to invest in this thesis. And it is the largest, most liquid ETF in the space.
The top three holdings of the fund comprise BAT, the Chinese equivalent of the FAANG stocks.
BAT stands for Baidu, Alibaba and Tencent. These three companies have a market cap approaching $1 trillion.
The price of KWEB has moved like you would expect a Chinese internet-focused ETF to. It is volatile.
It is so volatile that the people who run the fund put together these handy tables to explain what you should expect if you buy and hold this ETF.
First, the downtrends: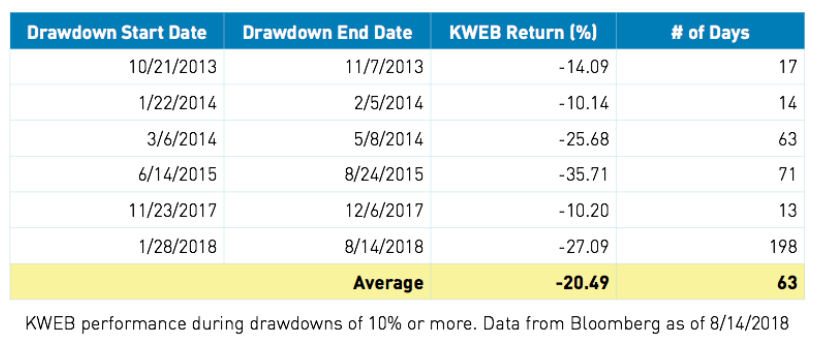 (Source: KraneShares)
The folks who made this table on August 14 couldn't have known what was going to happen to the price of their fund.
The 27% drop at that point was in its infancy.
The fund kept falling as U.S.-China angst kept rising.
In the end, KWEB registered an almost 50% drop from early 2018 to its bottom a year later.
But it has bottomed. On January 3, the fund closed at $36.20. It's now 16% higher.
As it has in the past, the fund followed its lows with periods of great rebounds: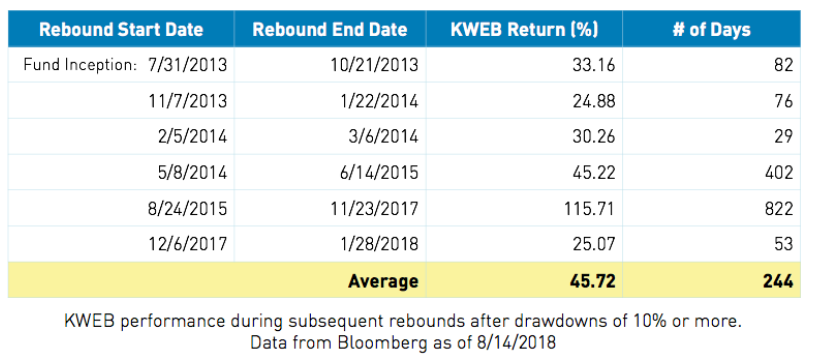 (Source: KraneShares)
This can continue. It has before.
Plus, the fund is still down 38% from its last-year high.
If shares rally as much as the lowest growth in the above table, they will trade at more than $45. And they can certainly do better than that.
China's Growth Will Happen
If you believe the U.S. is anywhere close to signing a trade deal with China, this trade makes sense for you.
But that doesn't have to happen.
Only 58% of China's population is on the internet. That comfortably leaves a group the size of the entire United States that can join them.
And it doesn't matter if only a Brazil-sized group joins (about 200 million people). Because the growth will happen … and it will be big.
In addition to KWEB, another way to play this trend is the Invesco China Technology ETF (NYSE: CQQQ).
It's smaller than KWEB, but it has similar holdings and decent liquidity.
I recommend you consider buying shares of KWEB or CQQQ today.
Good investing,
Brian Christopher
Editor, Insider Profit Trader