With the end of 2017 approaching, I want to take a moment to look back at the past year. Think back to the beginning of 2017 for a moment. Fresh off the November election, I think we all expected the stock market to rally.
But did you expect the Dow Jones Industrial Average to be up more than 24%?
If you did anticipate a large gain for the Dow, what component did you have pegged as the top gainer? For many readers and investors, it was likely Apple Inc. (Nasdaq: AAPL). As you can tell from the title of this article, that's not the case.
Since tech has been hot in 2017, and was on fire heading into the year, you might have guessed Microsoft Corp. (Nasdaq: MSFT) was the top Dow performer. Or maybe with President Donald Trump's promised rollbacks of financial banking regulations, you had JPMorgan Chase & Co. (NYSE: JPM).
None of those things came to pass, however. Apple has only gained about 49% so far this year, while Microsoft is up 37%. JPMorgan has added a mere 22% despite all the bluster back in January over reversing Obama-era banking restrictions.
No … 2017 was the year for manufacturing and capital equipment. The No. 2 biggest gainer on the Dow in 2017 was Caterpillar Inc. (NYSE: CAT), with a year-to-date return of 58%.
You may remember that I first recommended CAT stock back on June 7, and then reiterated my bullish stance on September 20. CAT stock is up 43% since June, and is still powering higher on strong global demand for construction and mining equipment.
While a 58% return is nice, the biggest gainer on the Dow is currently up more than 88% since the start of the year. This company's shares have also come in as the 12th-biggest percentage gainers among all U.S. NYSE stocks. What's more, those gains could extend well into 2018…
Flying the Skies with Boeing Stock
The list of investors who picked Boeing Co. (NYSE: BA) to be 2017's biggest gainer on the Dow has to be pretty short, especially compared to the list expecting Apple to rise to the top once again. But in 2017, the Boeing stock price was a bigger gainer than Apple.
While Apple was plagued with analysts' delivery concerns (that were only partially true) regarding its new iPhone, Boeing was raking up multibillion-dollar deals to replace aging fleets across the globe.  Boeing's "iPhone" launch was its unveiling of the new 737 MAX 10 at the Paris Air Show back in June.
The unveiling provided considerable momentum for Boeing, and by the beginning of December, the company had net firm orders for more than 660 aircraft on the year. By comparison, Boeing brought in just 668 orders in all of 2016, and leading competitor Airbus had only booked 333 net firm orders by the end of November.
Furthermore, December is typically a huge month for aircraft orders, with Boeing finalizing more than 200 orders in the last week of 2016. In short, Boeing is not only trouncing fellow Dow component Apple, it's also blowing past direct competition from Airbus.
As a direct result of 2017's strong performance, Boeing recently boosted its quarterly dividend to $1.71 per share — a year-over-year increase of 20%. The company is also returning additional cash to shareholders next year by approving an $18 billion stock buyback program.
And these solid fundamentals are all without the Republican tax plan in place. With many analysts expecting some form of tax plan from Congress, Boeing is sure to benefit.
Investing in Boeing Stock
The problem with Boeing stock is that the shares are a victim of their own success. BA has ridden support at its 20- and 50-day moving averages to fresh all-time highs near $295. While this normally wouldn't be a bad thing, especially for current BA stockholders, it has placed the shares in overbought territory.
BA's current Relative Strength Index comes in at 75, with readings above 70 typically considered overbought. What this translates into is a short- to intermediate-term pullback for BA stock, possibly to the $275 to $280 region, which is home to support in the form of BA's 20-day moving average. A pullback to this area would definitely make BA a buy.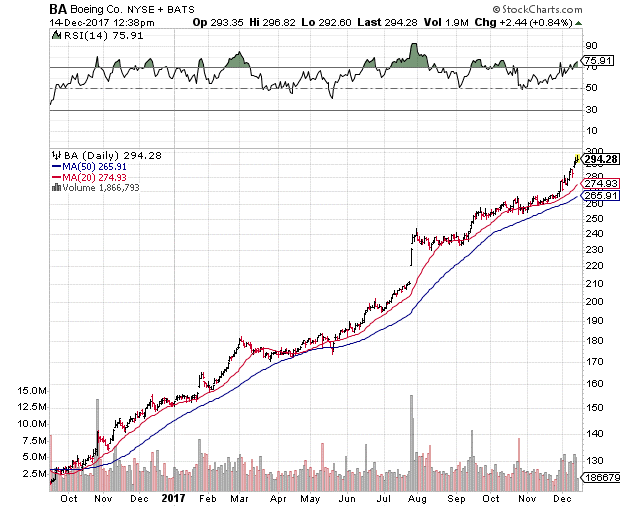 Finally, Boeing will release its fourth-quarter earnings results on January 21. Boeing is expected to report a profit of $2.87 per share, up from $2.47 per share in the same quarter last year. Revenue is expected to rise 3.8% to $24.17 billion.
Boeing has had a habit of besting Wall Street's targets this year, so another stronger-than-expected report could help BA stock blow past overhead resistance at $300.
Just remember to wait for a pullback for a better entry price before taking the plunge.
Until next time, good trading!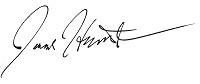 Joseph Hargett
Assistant Managing Editor, Banyan Hill

Editor's Note: In Matt Badiali's new video, he shows you one of the biggest investment opportunities he's ever seen. It's like sitting on a pile of cash — all you have to do is stake your claim. As a warning, some parts of this video are controversial … but if you're open to finding new ways to make money with little risk, you could become incredibly rich. To watch the video now, simply click here.