August 2015 was a disaster for American stocks.
But that four-day, 2,000-point drop in the Dow Jones Industrial Average was part of a much bigger story: the slowing of the Chinese economy.
In fact, the Chinese markets were down 20% to 30% months before our crash even started.
One sector that was hit hard by this incident was mining and metals.
China's slowing gross domestic product (GDP) growth meant less industrial production, which also meant less demand for coal, iron, copper, etc.
This resulted in a huge blow to the entire mining and metals industry. It caused bankruptcies at a historic rate.
However, most of the key players in the industry were able to avoid bankruptcy. And the Hong Kong and Shanghai indexes are up about 42% and 22%, respectively, since February of last year.
As the market begins to realize how undervalued the mining and metals industry has become, a clear standout investment has emerged.
Investors Have Faith Again
The market had priced in a worst-case scenario, where the top companies in the industry weren't even worth the price of their assets.
For example, the world's largest mining company, Australia-based BHP Billiton (London: BLT), was priced at 76 cents per dollar of company assets when 2016 began.
Since then, its stock price has gone up by 70%. And it barely had to give up any assets.
Other mining titans, such as Glencore (London: GLEN) and Vale (NYSE: VALE), are up 85% and 73%, respectively, in the past year.
The point is that investors are now beginning to have faith in these companies again. Such low valuations were an overreaction.
The sentiment on China has also reversed as its real estate market grows at a rapid rate.
And there are measures being taken to improve China's infrastructure. These measures are adding additional demand for natural resources.
Last month, China's GDP growth beat expectations. It appears to be stabilizing after several years of slowed growth.
This is key for the metals and mining market, as China's productivity significantly affects the prices of commodities all over the world.
And China's comeback has sent the iShares MSCI Global Metals & Mining Producers ETF (PICK) soaring.
Extremely High Momentum
Over the past 10 weeks, this exchange-traded fund has outperformed just about every industry: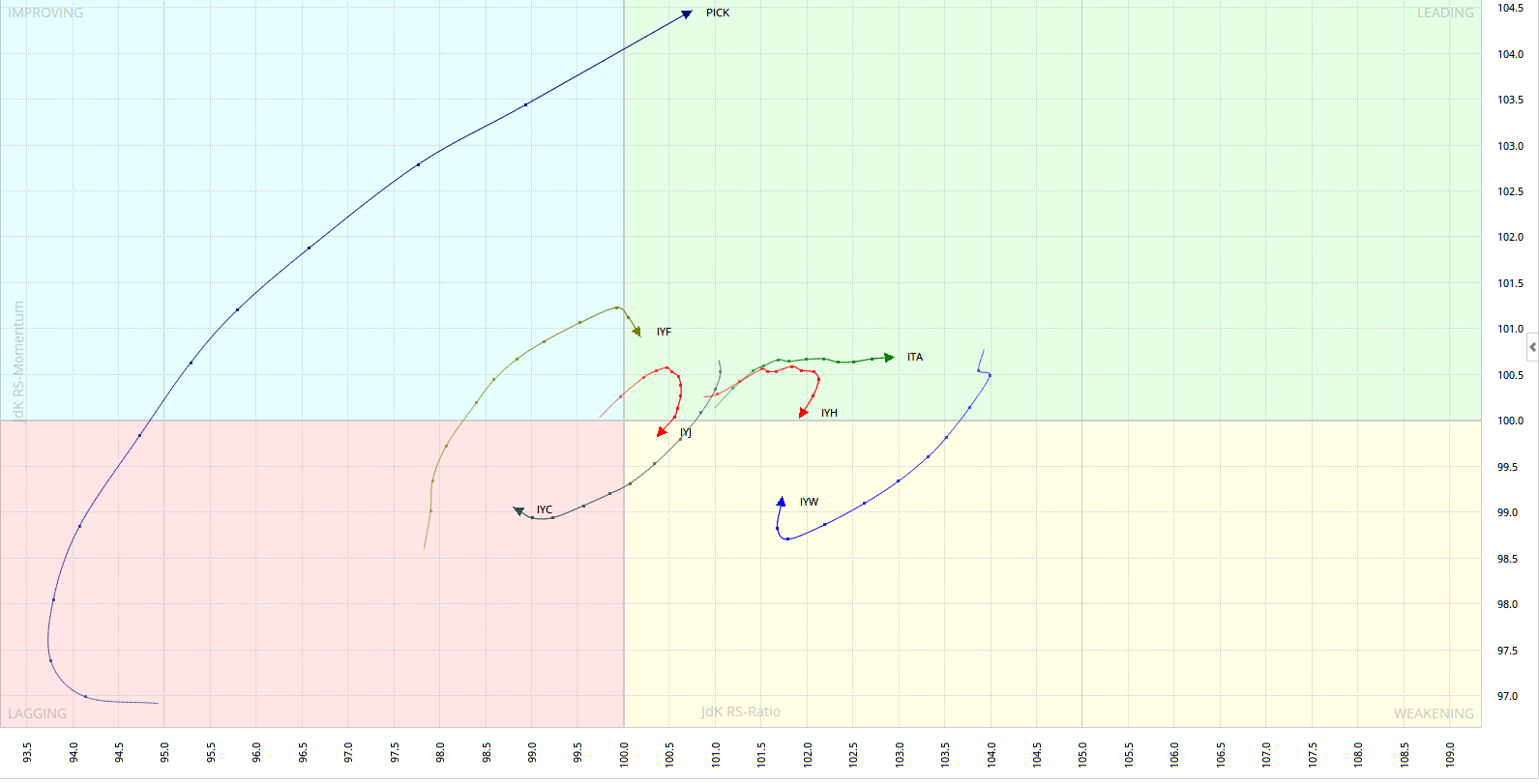 This chart is called a Relative Rotation Graph™. It measures performance in comparison to sectors such as consumer goods, financial, industrial, health care, technology, and aerospace and defense.
The higher a stock is, the more momentum it currently has. And the farther right it is, the stronger the uptrend.
The green space is where the leading stocks are. The red space is where the lagging stocks are.
As you can see, PICK has extremely high momentum. And it just crossed into uptrend territory, which should give it even more momentum.
Here is a look at PICK from another perspective: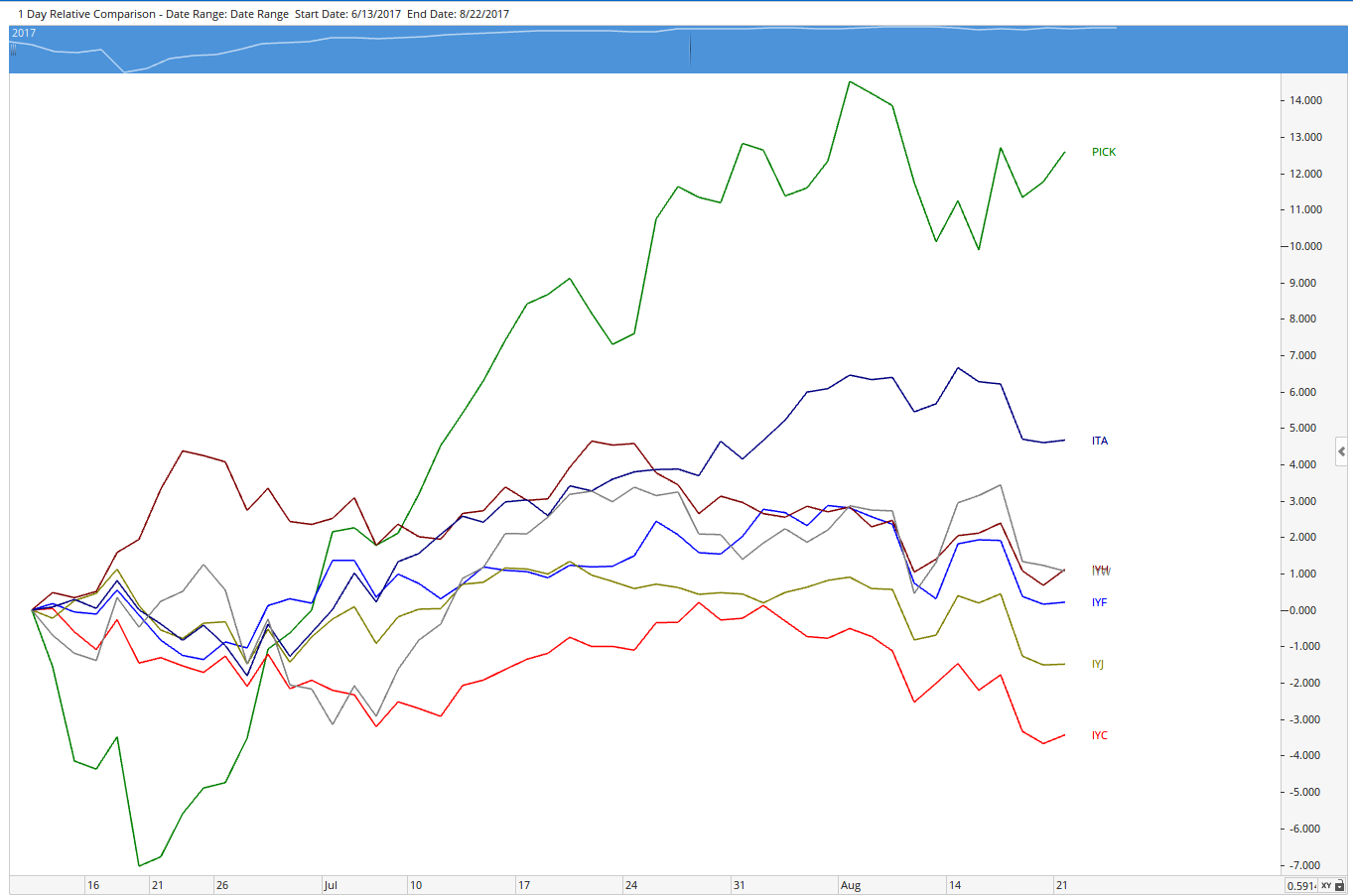 This chart shows each stock's percentage gain for the past 10 weeks.
In that time, PICK is up over 12%, while some sectors are in negative territory. Only one (aerospace and defense — ITA) is above 1% in that time period.
It's Not Just Coal
Recently, there has been a lot of skepticism toward the growth of American coal jobs.
And when most people think of mining, they think of coal.
But keep in mind that PICK is not just American companies. Nor is it just coal.
In fact, just two of its top 10 holdings are American companies. And they only make up 5.3% of the fund.
This is a heavily diversified fund that covers not only coal, but all types of base and precious metals.
It's heavily invested in large global mining companies like the previously mentioned BHP Billiton and Glencore.
Those companies, as you can see, have dwarfed the returns of the S&P 500 since the start of 2016. Glencore even gained 300% in that time frame:
PICK consists of the survivors of the mining industry.
These are the companies that took the correct measures to preserve their business and are now reaping the rewards.
As a result, we have seen consistent uptrends for over a year now. Increased global demand will keep that uptrend going.
And if you want even better ways to trade the surge in the mining and metals industry, make sure to check out natural resources expert Matt Badiali's Real Wealth Strategist service.
Regards,



Ian Dyer
Internal Analyst, Banyan Hill Publishing
Editor's Note: Chartered Market Technician Chad Shoop is ready to expose one of the most secretive and most prized strategies used by Wall Street. And the most incredible thing is, this strategy can help you boost your income to a whole new level without having to buy a single share of stock. For all the details, click here.