It's not every day that one of the fastest-growing industries in the world hits a rough patch.
The biotech industry underwent a major correction in the second half of 2015, and even into 2016. Overall, the value of the industry was cut by 52%.
But now it's on a clear path to recovery. In fact, the number of drugs in development increased by 30% from the end of 2014 to the end of 2016, to a total of 5,306 drugs. These aren't just new preclinical drugs being tested either; a lot of them are drugs moving up the ladder from phase to phase, which shows that the market is growing healthily.
One of the stocks that has jumped out at me recently is Cambrex Corp. (NYSE: CBM), a provider of crucial drug ingredients for biotech and pharmaceutical companies. Not only is its business model something that I think is very timely considering the state of the biotech industry, but it also could deliver superior returns over the next year based on one of my favorite buy signals.
The Central Ingredients
Just to give some background on the biotech industry, there are four main stages for a new drug to go through before it reaches the public marketplace.
The first is preclinical, after which are Phases 1, 2 and 3, and then it is registered for approval from the Food and Drug Administration. This process takes an average of 12 years, and only 1 in 1,000 drugs will make it all the way through.
Cambrex supplies the companies that are testing these drugs with active pharmaceutical ingredients (APIs), which are the central ingredients necessary to make the drugs work.
Cambrex will directly take advantage of the growth of the biotech industry, as its client base is mostly comprised of biotech companies with drugs in all types of clinical trials, from preclinical to Phase 3 trials (the last phase before commercialization).
In most cases, Cambrex continues to supply the companies with drug ingredients even after their drugs are approved. Since these approved drugs are being sold to the general public, it's a much larger source of revenue, sometimes exceeding $10 million to $20 million per year.
Not only is Cambrex in an industry that is seeing high growth, but it is also an attractive company to do business with. This year, it won 24 CMO (Contract Manufacturing Organization) Leadership Awards in categories such as compatibility, expertise, quality and reliability.
Because of its credibility, as well as the longevity of the relationships between Cambrex and its clients, it has an edge on its competition, and more companies with a need for APIs will look to Cambrex for assistance.
While Cambrex typically works with later-stage drug prospects (and soon commercialized products as well), it also recently acquired a manufacturing plant due to foreseen demand in early-stage drug prospects. This acquisition gives Cambrex more capacity and expands its service capabilities, and its optimism is also a good sign for the industry in general.
A Simple Indicator
Although the prospects of Cambrex are very enticing, there are some cases where even the stocks with the highest growth forecasts are not a smart buy. When too many investors pile into a stock at once, it can shoot the price up far beyond what the stock is actually worth.
That's why I like to look at technical indicators, which show the strength and performance of a stock based on historical prices and the volume being traded. Some of the simplest technical indicators show the current momentum of a stock and whether it is overbought or oversold.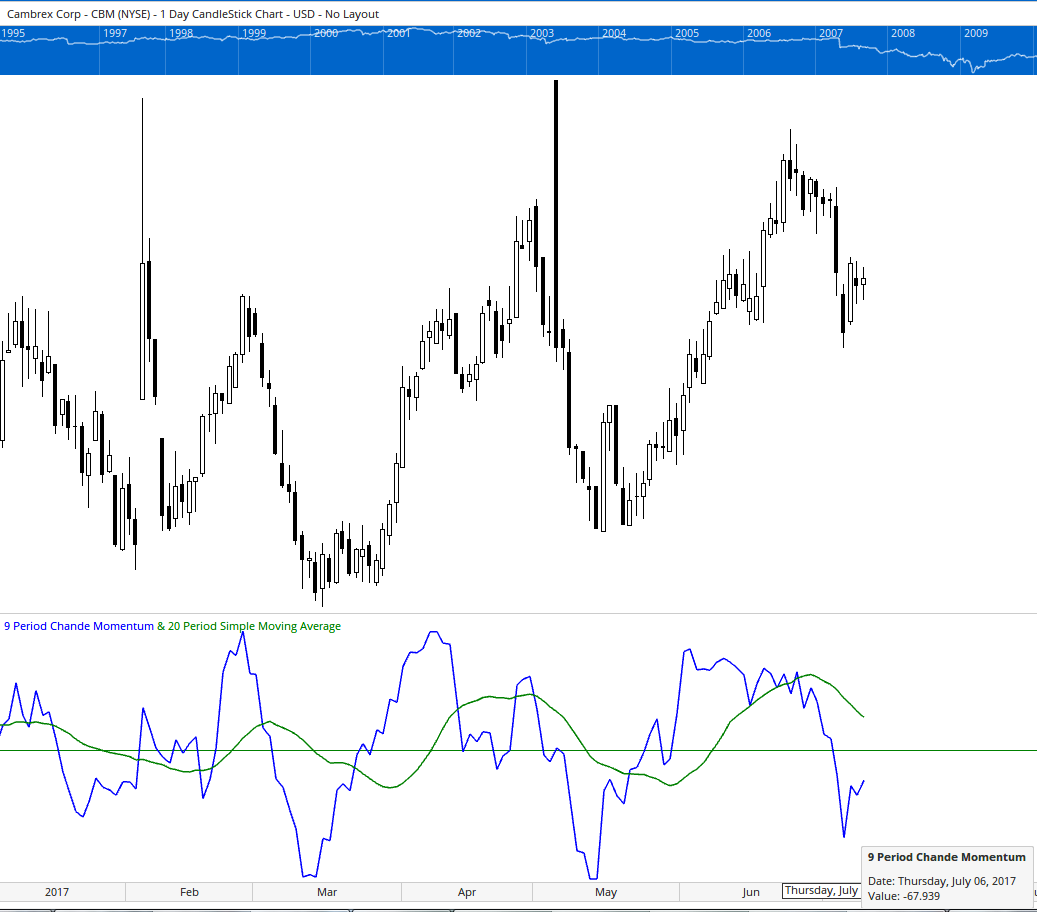 There are many different ways to measure the momentum of a stock. One of my personal favorites is Chande Momentum since it is based on a uniform minus 100 to 100 scale for all stocks, while most other  methods are relative to the stock's price.
On July 6, a week ago today, the Chande Momentum meter dropped down to about minus 68, which is very low relative to its average. I took a look at what happened every time the Chande Momentum line moved below minus 65 since 2009, and the results signaled a very strong buy.
Over that time period, the indicator went below minus 65 a total of 38 times, and if you had bought the stock the next day, you would have seen an average gain of 61% (and a median of 56%) over the next year.
In fact, not once out of those 38 times would your investment have lost money — it had a 100% win rate. To put the 61% return in perspective, it almost quadrupled the returns of the S&P 500 Index during those same time periods, which saw an average gain of 15.5%.
Based on this history, Cambrex should be trading around $90 per share in a year, compared to the $58 you can buy it for today. But due to the growth prospects and industry demand, that number could easily exceed the $100 mark.
And there are many other exciting investment opportunities in the pharmaceutical industry. Several of these companies are in the portfolio of Paul 's Extreme Fortunes service, which targets stocks that are on the verge of soaring 1,000% or more.
Regards,



Ian Dyer
Internal Analyst, Banyan Hill