The news headlines are wearing Americans down.
It's as if a single day can't pass without a new scandal being blasted out through the various news agencies.
There are questions about whether there were secret meetings with Russia within President Donald Trump's camp during the election.
There are mounting questions regarding the future of health care in America following the failure of the latest push to repeal Obamacare.
There have been renewed attacks on privacy with the latest vote in the Senate to give your Internet service provider the right to sell your data.
And recently, the stock market has been struggling to make gains as we face a heavy round of Federal Reserve speeches and economic data.
But there is a way for you to feel secure in your wealth and your liberties as the country fights through this chaos…
During the first full day of the Offshore Investment Summit, we heard from presenters who are able to offer investors some options for protecting their wealth by diversifying it outside the U.S. as well as creating a Plan B to protect their wealth and liberty.
Why Uruguay?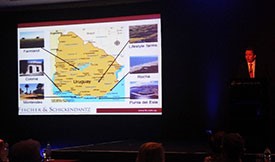 Kicking off the summit, Juan Federico Fischer of Fischer & Schickendantz detailed many of the reasons why The Economist named Uruguay "Country of the Year," why The New York Times boasted of Uruguay's quiet democratic miracle and why Forbes extolled the virtues of Uruguay's grass-fed beef.
Uruguay continues to be the safest country in Latin America, with a stable democracy that believes in equal treatment of foreign investors. The country also offers a solid middle class, a friendly tax system, quality health care and modern infrastructure. And Punta del Este is ranked as the premier beach resort in all of South America.
Many visiting foreigners are typically looking at Uruguay for one of four reasons:
Residency and citizenship.
Banking.
Real estate.
Farmland.
Juan went on to discuss in detail the various options that are available to foreigners in each of those four categories.
In particular, Uruguay offers an easy residency or citizenship. There is no need to invest in the country. You can become a temporary resident from day one, and you are permitted dual or triple citizenship. Uruguay has a reputable passport. With the proper documents, it takes only one day to obtain temporary residency, and it takes six to 12 months to be approved for permanent residency.
Juan and his team can help with:
Residency and relocation.
Banks and vaults.
Property purchase.
Farmland.
If you would like to talk to Juan and his team about exploring Uruguay as a possible second residence or second passport, you can go to www.fs.com.uy or email his team at info@fs.com.uy.
Inside of Switzerland
The next presenter was Rob Vrijhof, president of Weber Hartmann Vrijhof & Partners (WHVP), who discussed not only the benefits of opening a bank account in Switzerland — yes, Americans can still invest in Switzerland — but also revealed his expectations for the stock market.
WHVP has been an independent asset manager since 1991 and is registered with the Securities and Exchange Commission in the U.S. They maintain a conservative, long-term strategy with a focus on blue-chip stocks, bonds and currencies. They also work with high-class private banks.
By investing with a Swiss independent asset manager, you get unique expertise in Swiss and European markets, helping you to diversify your assets outside the American stock market and the U.S. dollar.
Rob also provided his current outlook for the market. He believes oil is going to be trading in the $60 range in the next 12 to 18 months. He has a positive outlook for gold and maintains that you should be holding 10% to 15% of your portfolio in precious metals, particularly gold and silver. He also sees the Canadian dollar rebounding and becoming stronger than the U.S. dollar.
To contact Rob and his team, you can reach them at:
Website: www.whvp.ch
Email: info@whvp.ch
Address: Schaffhauserstrasse 418
CH-8050 Zurich, Switzerland
Telephone: 011-41-44-315-77-77
Preparing for the Next Collapse
Ted Bauman concluded the sessions for the day by looking at the long-term threats that he sees Americans facing over the next few years and why it is important to have a Plan B in place to protect yourself and your family. He believes there are increasing questions about the strength of "the rule of law" within our borders. One example is the continued use of civil asset forfeiture and the approval of Jeff Sessions as the attorney general. He is a big supporter of civil asset forfeiture and the attack on Americans' wealth.
We are also faced with a Congress that is eager to give away your privacy, starting with the vote to overturn Federal Communications Commission rules that prohibit groups from selling your Internet browsing history.
And then there is the next black swan event that will hit the stock market.
With this uncertainty swirling around Americans, it's important to have your assets diversified geographically so that you don't have all your eggs in a single basket. If one region runs into trouble — like the U.S. — you stand to still make gains by benefiting from growth in other regions.
It's also important to diversify your wealth across various types of assets — stocks, bonds, currencies, property, collectibles and precious metals. To properly position your wealth, you can begin with reviewing Ted's book, Where to Stash Your Cash (Legally), and you can also take advantage of the services provided by the presenters at the Offshore Investment Summit.
Regards,


Jocelynn Smith
Sr. Managing Editor, Sovereign Investor Daily
P.S. Ted Bauman has discovered the best place on earth to shelter your money in a life insurance policy, annuity, bank or trust. American lawyers hate this country because it's ranked No. 1 for keeping your assets safe. This secret, as well as other crucial information about the steps you can take to preserve your wealth and lifestyle in the face of a financial catastrophe, is available to members of the Plan B Club. Click here to learn more about this innovative new program that's designed to help you put a plan in place while there's still time.