Tomorrow's the first Friday of the month, and that means the unemployment report for June will be released. A Bloomberg poll of economists tells us to expect a pretty good report. They estimate 170,000 new jobs were created in June. This would be a little better than May, when just 138,000 new jobs were created. The unemployment rate probably stayed at 4.3%.
But other government data tell us to look for weak jobs data. Analysts at Mathematical Investment Decisions track payroll tax receipts, a leading indicator of the unemployment report. The chart below shows that receipts declined in June. This could mean the unemployment report won't meet expectations.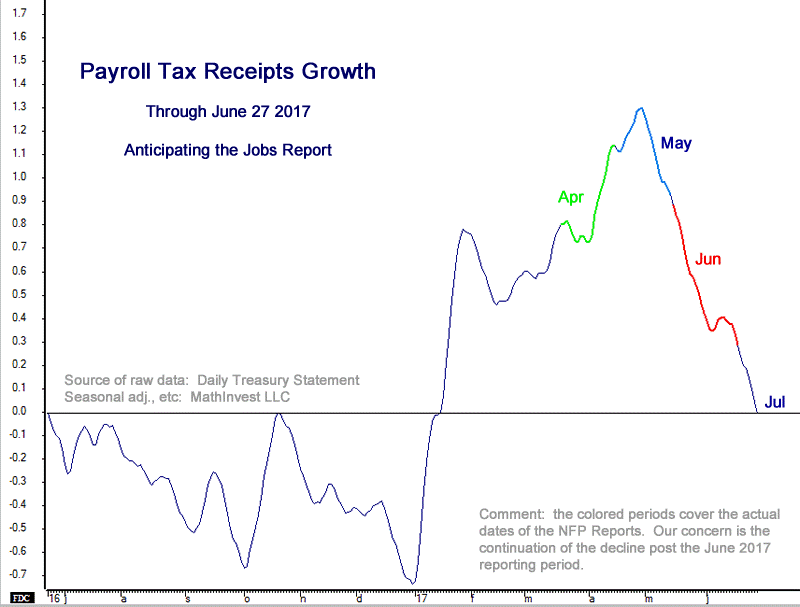 (Source: MathInvestDecisions.com)
The chart tracks changes in payroll taxes paid to the government. Employers make these payments immediately after paying employees. Since May, payroll tax receipts are down. This tells us either employment or wages are down. Neither of those outcomes is good for stocks.
Payroll taxes mirror changes in employment, but it's not an exact match. Payroll taxes for a well-paid engineer, for example, could be higher than the payroll taxes for 10 new retail jobs. The employment report counts each job equally in its data.
Friday's jobs report is based on surveys conducted in June. The Treasury Department posts its bank statement daily. Those statements offer real-time insights into the jobs data.
We know payroll tax receipts dropped in June. That's not pointing to a strong job market. Traders may react strongly on Friday, selling stocks as fears of an economic slowdown mount.
Regards,



Michael Carr, CMT
Editor, Peak Velocity Trader