President Donald Trump has slapped higher tariffs of as much as 30% on solar power imports, as well as imports of washing machines.
Forget the mainstream media spin cycle. Let me tell you how to profit.
Trump's new tariffs are meant as a shot across the bow of the world's biggest exporter of solar panels, China.
China has subsidized its solar manufacturers unfairly since 2005. That lets it undercut U.S. manufacturers.
But as China's factories take a hit from the tariffs, U.S.-based solar power manufacturers will benefit.
Good News for the U.S. Solar Industry
The U.S. solar industry employs between 260,000 and 374,000 workers. All but 38,000 of those work in installation. "Solar installer" is poised to become the fastest-growing job in the United States over the next 10 years.
Still, U.S. manufacturers aren't entirely winners.
The U.S. solar industry relies on overseas parts for 80% of its supply. So, if Trump's tariffs cast shade on solar, it could hurt American workers.
And to be sure, Goldman Sachs estimates the tariffs imply "a 3% to 7% cost increase for utility-scale and residential solar costs, respectively."
Overall, though, this is good news for First Solar Inc. (Nasdaq: FSLR).
The company is based in Tempe, Arizona. Globally, First Solar is the dominant producer of thin-film solar.
It makes some of its panels in the U.S. And even though it makes most of its thin-film solar modules in Southeast Asia, those kinds of panels may be exempt from the tariffs that Trump approved Monday.
First Solar generates about 85% of its sales in the U.S., especially in environmentally conscious places like California. First Solar also sells to Canada, China, Germany and India.
Adding fuel to any move for First Solar is that it's just starting a new product cycle. It is rolling out new, more efficient modules, its Series 6 modules.
So, First Solar will be pushing more efficient solar modules in a tariff-supported sales environment.
The whopping $2.4 billion in cash that First Solar has in its war chest doesn't hurt either. And all that cash really sets it apart from overleveraged Asian manufacturers.
The Global Solar Trend Is Massive
On the other hand, these tariffs may be small potatoes for the global solar industry, considering the growth in worldwide demand. Just look at this chart from GTM Research showing the projected growth in the solar market.
However, the global trend toward clean, renewable energy is not matched in America. Trump and Republicans in Congress do not favor solar power.
So, the U.S. trend looks like this…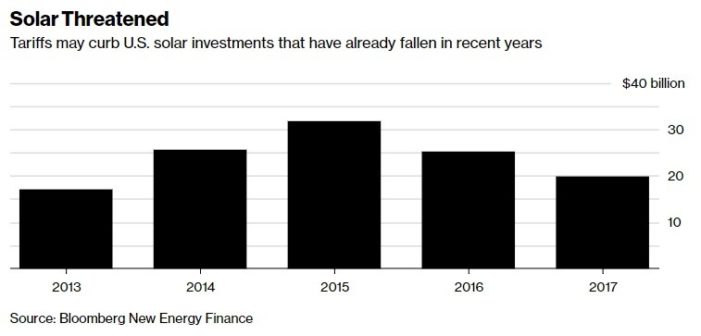 This may mean First Solar becomes a bigger fish in a shrinking pond. So, for First Solar, as for other manufacturers, global markets are key.
The Surprise Winners
And that brings us to the surprise winners of the Trump solar tariffs — foreign (primarily Chinese) solar manufactures.
Why? Because the Trump tariffs are lower than many feared. Even worse, bad news was priced in. Now they have room to run.
These foreign manufacturers include JinkoSolar (NYSE: JKS), JA Solar (Nasdaq: JASO) and Canadian Solar (Nasdaq: CSIQ).
Though that last one is headquartered in Guelph, Ontario, its manufacturing is as Chinese as a fortune cookie.
The funny thing is, most Asian solar manufacturers are getting clobbered on the tariff news. I believe the market is wrong on this.
The tariffs will just be a passing cloud for them, and the global market is expanding. Indeed, the Asian solar manufacturers may represent the real buying opportunity here.
Too Little, Too Late?
What about the companies that brought the tariff case against the Chinese in the first place? One, Suniva, is already bankrupt.
The other, SolarWorld (OTC: SRWRF), is a German manufacturer that has a U.S. subsidiary based in Oregon.
SolarWorld has a market cap of just $10.4 million, which makes it too small for many portfolios. And it is hard-pressed financially.
However, there is good news. It may be in line to pocket some of the tariff money. But we'll see if it's too little, too late.
The Tariff Game
So there you have it: a bunch of ways to profit from tariffs.
Just remember that two can play the tariff game. And now it's China's turn at bat. It could start swinging at U.S. exports of everything from planes to soybeans.
For now, let's make hay while the sun shines.
All the best,

Sean Brodrick
Editor, Wealth Supercycle