Let me explain the setup with an analogy.
You plan to compete for a spot on your high school basketball team. You spent your whole life preparing for this tryout.
After it was finished, each of the coaches said that the metrics they used show you are the second-best player … then they put you on the junior varsity, or JV, team.
Does that add up to you?
It shouldn't.
Today, there is a group of stocks that are being treated like they're on the JV team.
It is likely the powers-that-be will move them up to varsity in the near future. Keep reading to learn the group of stocks I'm talking about…
Have You Ever Considered This Asset?
I believe Chinese A-shares offer investors 25% upside over the next two years. With returns like this, I hope you'll read on regardless of what you think about China.
While considering our basketball analogy above, check out these statistics:
The Chinese economy is the second-largest in the world.
The two main Chinese stock markets — Shanghai and Shenzhen — have the second-largest market cap in the world.
MSCI — the world's largest indexing firm — announced this past June it is adding Chinese A-shares to its benchmark emerging market index. This was long overdue. It is important because it will give investors — like those in the U.S. — access to a market that had been off-limits.
But while China has a spot on the team, MSCI is effectively giving them a JV role.
Before I explain how, let's step back to make sure we're on the same page.
Good News for Chinese Stocks
Chinese A-shares trade on the two mainland Chinese stock exchanges (Shanghai and Shenzhen). They trade in renminbi, the currency in mainland China.
Last June, MSCI said it would begin to add 222 Chinese A-share companies in a gradual manner to its index starting in June 2018.
Since MSCI added these Chinese stocks to its emerging markets index, any mutual fund, exchange-traded fund (ETF) or other investment vehicle with products that track this index has to buy these shares.
This is good for Chinese A-shares. So why do I say these stocks have been relegated to the JV team? Because MSCI will only attribute 5% of its index to China.
That's the same China that's second-largest in the world in many important categories of measurement.
I believe that percentage will increase in the future. I just returned from an invite-only China investment summit at the New York Stock Exchange. During it, the chief economist at the largest Chinese investment bank told the global head of new product research at MSCI that the percentage should be higher.
The economist's comment echoed the thoughts of many asset managers I spoke to in the room.
Here Are Three Ways to Play Chinese A-Shares

The world likes the story thus far. Take a look at the uptick in an ETF that invests in Chinese A-shares since the MSCI announcement: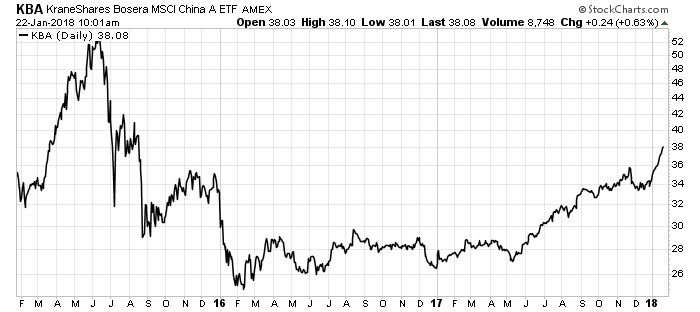 The KraneShares Bosera MSCI China A ETF (NYSE: KBA) traded relatively flat until mid-May of last year. It began moving higher even before the MSCI announcement.
And it's not the only name benefiting. Others include the Xtrackers Harvest CSI 300 China A ETF (NYSE: ASHR) and the Morgan Stanley China A Share Fund (NYSE: CAF).
The three funds trade for similar multiples of price-to-earnings, price-to-sales and price-to-book value. While the fund prices are higher, they aren't expensive based on the above metrics. And they all trade at well below their 2015 peaks.
However, CAF is more volatile. It holds more pharma stocks and fewer banks. It is also a closed-end fund (not an ETF) and charges higher fees.
MSCI has stated it will consider an increase for the 5% allocation if Chinese authorities open their markets further. That is beginning to happen.
As it continues, look for Chinese shares to continue to move higher. And if the worldwide powers-that-be ever move China to the varsity team where it belongs, look out!
I suggest you consider China today.
Good investing,
Brian Christopher
Senior Analyst, Banyan Hill Publishing
Editor's Note: Just because Wall Street doesn't want you to know about an obscure investment program doesn't mean you can't profit big from it, just like Bill Gates, Warren Buffett, the Clintons and the Kennedy family did. The fact is, anyone can open one of these accounts and set themselves up for a fortune. This program made it possible for a 26-year-old postal worker named Samuel Murphy to turn just $45 into $60,000 … and a former Wall Street trader admitted it can "turn pocket change into millions." To find out how you can start using this program to make money hand over fist, click here now.