Politicians talk all the time. It's almost all they do.
Traders don't get that luxury. Every day, they put real money on the line. So when traders change their minds, it's worth paying attention to.
Traders in the Mexican peso are now betting that the peso will strengthen against the U.S. dollar. This is their first bullish bet since late 2014.
The chart below shows the positions of "smart money" peso traders. With real money, they're saying Mexico looks like a good investment.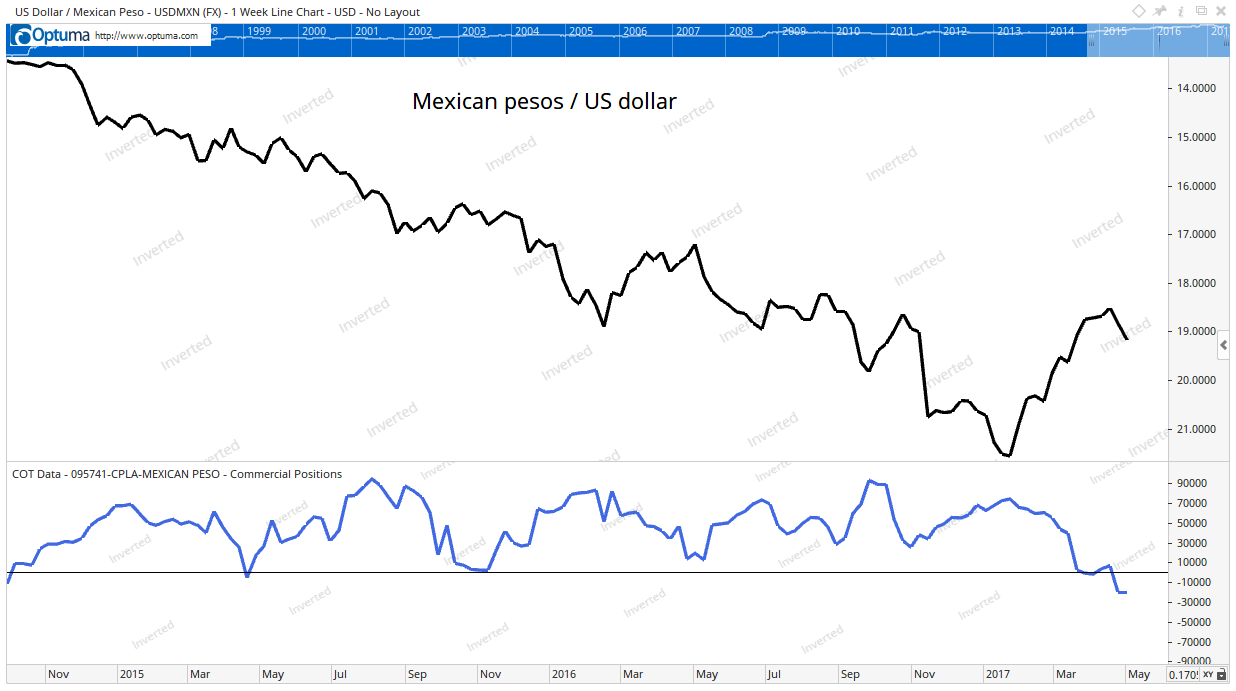 This is a chart using data from the Commodity Futures Trading Commission's Commitment of Traders (COT) report.
Every week, futures positions are reported to government regulators. However, few investors follow COT data because it's difficult to use. Government reports like this one are often a mess to process.
The blue line in the chart is the position of commercial traders in the peso market. This is the smart money. They work at big banks such as Goldman Sachs and Citigroup.
When their positions are above the zero line, commercials are expecting the peso to fall. When their positions drop below zero, they expect the peso to rise.
Until commercials turn bearish on Mexico, we should expect a rally in the peso that should spill over into Mexican stocks. To tag along with the commercials, investors can buy the iShares MSCI Mexico Capped ETF (NYSE Arca: EWW).
It might seem odd to be bullish on Mexico right now. President Donald Trump is threatening to rewrite trade agreements, build a wall separating the two countries and impose financial sanctions to pay for the wall.
Despite all the news, the smart money is saying: "Buy Mexico." They have money on the line, so it makes sense to follow their lead and ignore the political speeches.
Granted, commercials can be wrong. But the chart will show us if they change their minds.
Regards,



Michael Carr, CMT
Editor, Peak Velocity Trader