The U.S. freight industry is facing a number of headwinds.
The cost of diesel jumped 60% since the start of 2016.
Rising interest rates will make debt more expensive.
New regulations are making employment even tighter. The electronic logging device mandate is cutting down on driver productivity. The response is to hire more drivers and boost wages.
And tariffs are making goods even more expensive, threatening to stem demand from U.S. consumers.
Despite these headwinds, carriers placed a record number of orders for new trucks this quarter. September saw orders for semitrucks jump 92%.
Late to the Stage
The surge in September orders came just before the early October market sell-off.
The 5% drop in the S&P 500 Index left many wondering whether this is the beginning of the end for the record-long bull run in U.S. stocks.
Using the freight service sector as an indicator, this bull market still has further to run.
The U.S. Department of Transportation (USDT) tracks an index of freight traffic – called the CASS index.
This index serves to forecast recessions. The USDT states that it leads economic slowdowns by an average of four months.
Below is a chart of the freight index with its trailing 12-month average. According to the USDT, when the index begins to sharply fall below its average, economic growth will slow.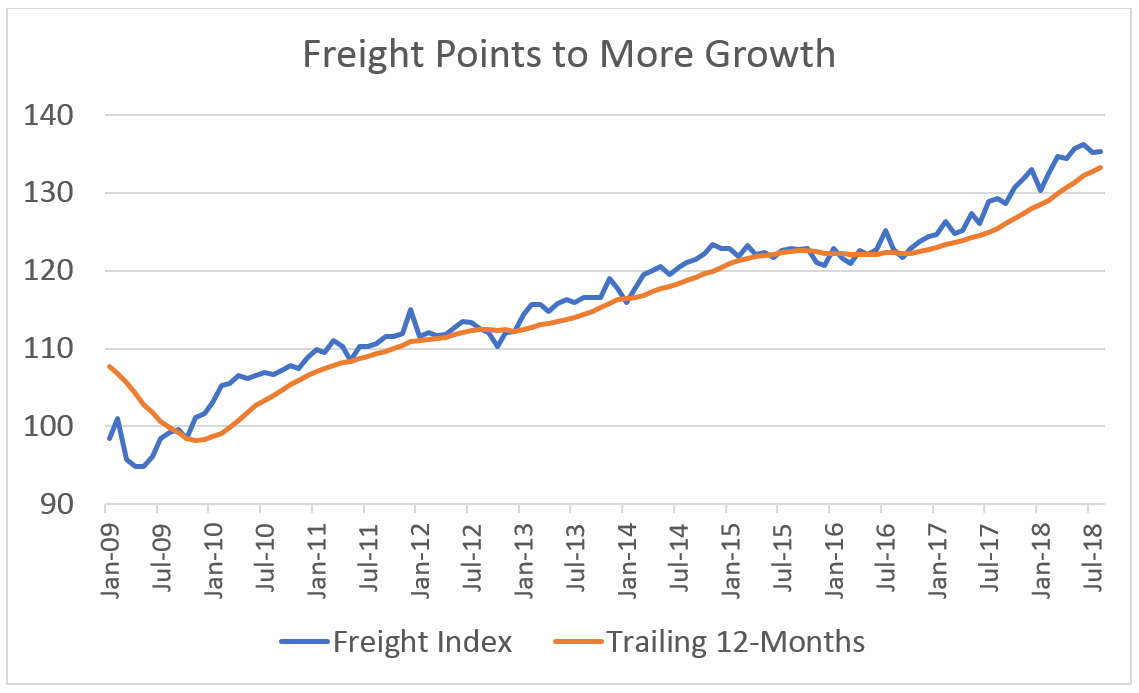 The last two years show the strongest growth since the beginning of the recovery in late 2009.
Even with challenges, employment is at near-record lows, and inflation is tepid.
So, while we may be the later stages of the economic cycle, there is still room for growth.
Consider the iShares Transportation Average ETF (IYT).
The exchange-traded fund (ETF) holds a basket of major American transport companies. This includes trucking, rail, marine and airlines. It grew by 34% over the past two years.
Good investing,
Anthony Planas
Internal Analyst, Banyan Hill Publishing