When looking at market indicators, it's important to remember that "to know what everyone knows is to know nothing." This was one of the rules that drove analysts in Merrill Lynch's technical research department in the 1970s. Their job was to write research reports using indicators no one else had.
This rule makes sense. If you could make money following well-known indicators, everyone would make billions of dollars in the stock market. We know beating the market is hard work. That means we need to look at indicators that aren't widely followed.
Few investors follow the cumbrously named consumer discretionary to consumer staples ratio. The ratio is based on the idea that consumers have more money to spend in good times. They use that money to splurge, buying discretionary items. In bad times, money is tight and consumers focus on staples instead of splurging on items that are nice to have.
Discretionary spending benefits companies like Starbucks and Priceline. Procter & Gamble and Philip Morris are examples of staples.
This ratio is shown as the black line in the chart below, and it just turned bearish. The blue line is the S&P 500. The ratio often changes direction before the S&P 500. The most recent market action is shown in the small box in the bottom right corner.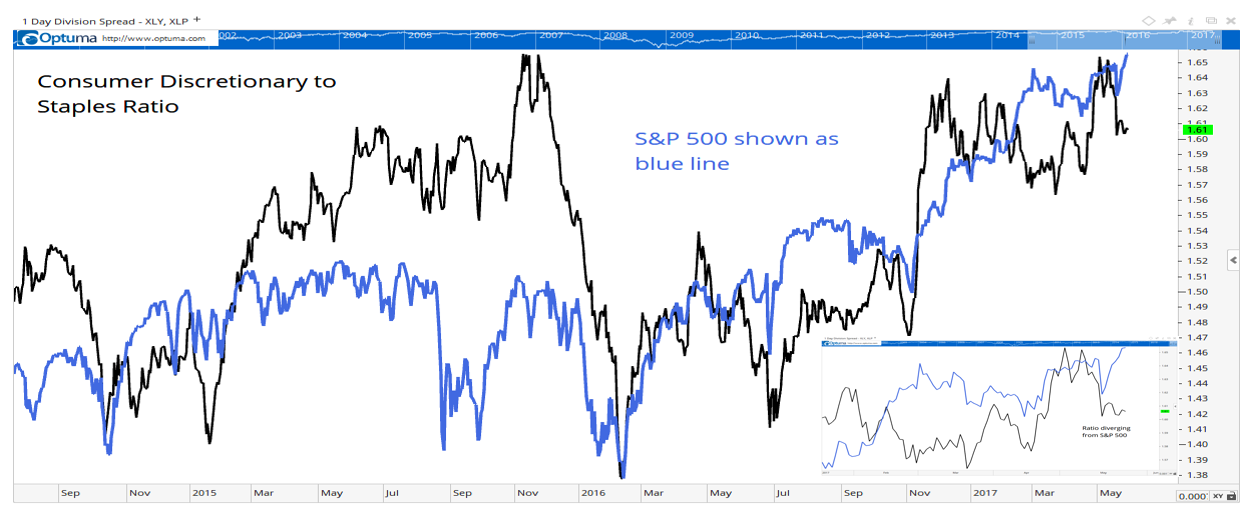 Sector indexes are used to track this idea with a ratio. When the ratio is rising, discretionary stocks are outperforming staples, which is bullish for the stock market. When staples outperform, the ratio falls, which is a sign of economic weakness. Investors are more cautious, and the major market indexes often decline.
For most of this year, the ratio has been declining, which is bearish for stocks. This indicator isn't perfect, but it usually changes direction before the stock market.
The consumer discretionary to consumer staples ratio provides unique insights into the market. This allows us to know something more than what everyone else knows. And, right now, we know that the market looks like a short-term pullback is likely.
Regards,



Michael Carr, CMT
Editor, Peak Velocity Trader