Amazon.com Inc. (Nasdaq: AMZN), the online retail giant, has seen its stock price skyrocket more than 50% over the last 12 months.
It has surged past the $1,000 price level, which was tricky to break through, and has continued to climb since then.
Many investors are looking at the euphoric Amazon stock price movement and wondering if now is a good time to short the stock.
The answer is no.
There's never a good time to short a cult-like stock such as Amazon. It doesn't trade on normal parameters, and it operates a business model that doesn't have to generate a profit for its stock to go up. These types of companies are almost impossible to short because of that.

But there is another way to profit, one I have shared with you in the past: not buying into the hype of the Amazon stock price.
Here's what I mean…
Grocery Stocks Got Slammed
Back in June, Amazon announced it would acquire Whole Foods to disrupt the grocery sector. Many investors bought the hype and immediately downgraded all sorts of grocery-related stocks expecting Amazon's competition to weigh on the industry.
Then, in late August, Amazon completed the acquisition ahead of schedule.
Once again, grocery stocks got slammed.
I wrote an article on September 4 saying this bloodbath was your buying opportunity, and it paid off with an average gain of 15% since then on the five stocks I listed.
And out of the five stocks mentioned, The Kroger Co. (NYSE: KR), Sprouts Farmers Market Inc. (Nasdaq: SFM), Wal-Mart Stores Inc. (NYSE: WMT), Costco Wholesale Corp. (Nasdaq: COST) and SuperValu Inc. (NYSE: SVU), all but one has rallied basically 20% since then.
The one stock that is down is SuperValu, and even that stock popped 10% early on. Take a look: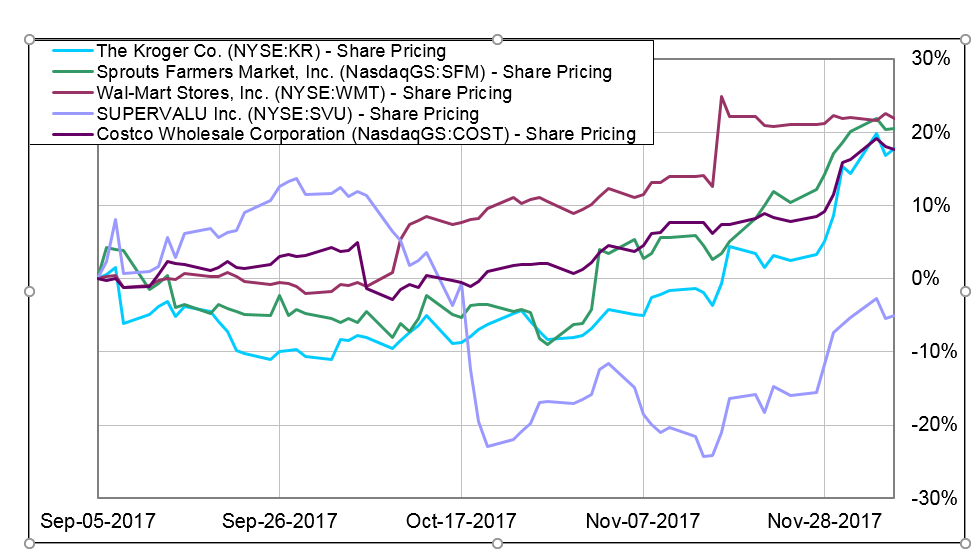 Not a bad return considering Amazon was expected to crush the competition in the sector.
For reference, the S&P 500 is up about half of that amount over the same time period.
If you have seen gains like this in these stocks, and your sole purpose of owning them was to benefit from the rebound, then you can take profits off the table now.
Opportunities that come from buying into industries that Amazon attempts to disrupt occur often.
Just this year it has happened with delivery companies, pharmacy companies, grocery stocks and, last week, a new industry — dental stocks.
Overreactions to the Amazon Stock Price
Last Wednesday, dental supply stocks Henry Schein Inc. (Nasdaq: HSIC) and Patterson Cos. Inc. (Nasdaq: PDCO) closed down more than 4%.
The reason? Amazon.
Amazon is reported to now be buying dental products from a different direct manufacturer, Dentsply Sirona Inc. (Nasdaq: XRAY) — its shares were unchanged on the news.
A Henry Schein spokesperson said the company is "unaware of any market-leading dental manufacturer" having a direct relationship with Amazon, adding: "We believe that at this time Amazon is a minor player in the dental consumables market, with an insignificant market penetration."
This doesn't sound like a major threat to the way things are done, and it's why buying these dental stocks on this weakness is an opportunity.
I wrote back in October about Amazon's many failed attempts to disrupt industries. It's what makes Amazon Amazon. But it's also why these overreactions are buying opportunities.
Regards,
Chad Shoop, CMT
Editor, Automatic Profits Alert