We're in the late innings of the business cycle. And I have good news…
Historically, this is the period when natural resources outperform the rest of the market.
Growth matures. Prices rise. The economy experiences inflation. Energy and material companies experience inflated margins.
It's the beginning of the end, but it's a great chance to make a bunch of money.
So, when you finish singing "Take Me Out to the Ballgame," check out this chart of Chinese stocks versus Chinese steel prices.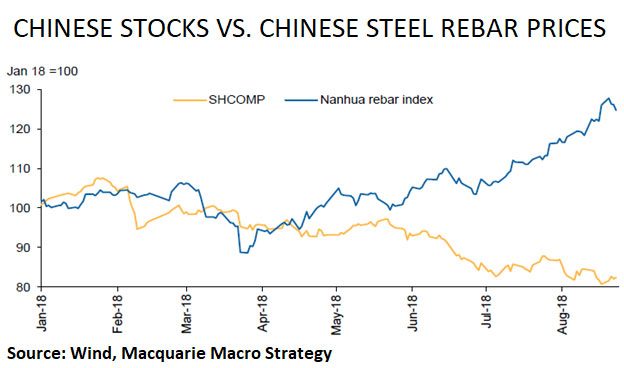 The orange line is the Shanghai Composite, an index of all stocks traded on China's Shanghai Stock Exchange. The blue line is a measure of Chinese steel prices.
China is the world's largest consumer of natural resources and raw materials. China's biggest industries rely on things like iron and steel.
This explains why steel prices and Chinese stocks usually move together.
But that changed in April. Steel climbed, stocks sunk.
That's a critical sign. Sentiment in the real economy (as represented by steel prices) is more optimistic than sentiment in the financial economy (as represented by Chinese stock prices). Trade wars and currency devaluation hampered Chinese stocks this year. Clearly, though, the real economy is still moving along.
This is what happens in the late innings of an economic expansion: The bull market gets tired.
But if demand remains stable, rising prices will create a feedback loop of inflation. And natural resources will outperform the market.
Steel and Commodity Futures Investments
In general, market returns will begin to shrink. Once top-performing sectors will peak. Smart money will rotate into energy and materials sectors.
The VanEck Vectors Steel ETF (NYSE: SLX) jumped by 33% in the 12 months preceding the 2008 recession. But outperformance wasn't limited to steel prices.
Take the DB Commodity Index Tracking Fund (NYSE: DBC), for example. The fund tracks 14 different commodity futures contracts including crude oil, gold, aluminum, zinc and sugar. It shot up by 75% in those same 12 months.
Whereas the S&P 500 dropped 14% during that time. The Shanghai Composite shed 35%.
Now's not the time to park your money in the broad stock market. At best, you'll underperform. At worst, you'll give away the gains you've played so hard for.
Good investing,
John Ross
Senior Analyst, Banyan Hill Publishing