I study seasonal trends across a wide group of sectors in the stock market.
Based on the seasonal patterns I track, the end of the year is one of the best entry points into bullish trends.
That's why every year, in August and September, the bulk of my bullish seasonal trends kick in.
This is a market phenomenon that I take advantage of in my Automatic Profits Alert service.
In it, I look to capitalize on these seasonal trends in sectors of the stock market.
And right now, we are entering a bullish seasonal period for one particular sector of the market: the income sector.
Take a look: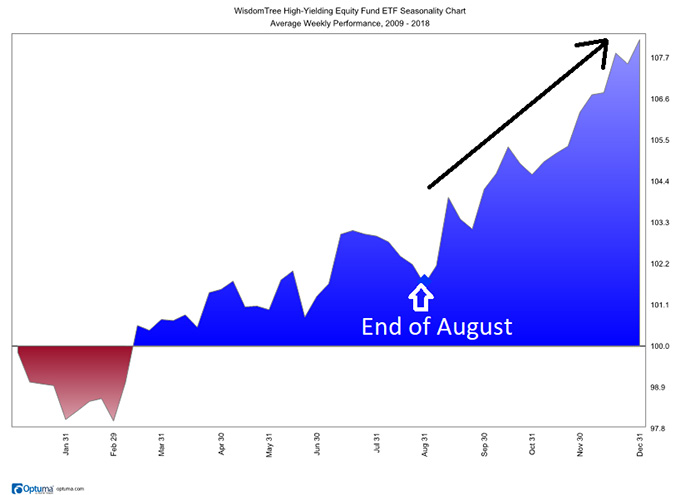 In the chart, it shows the 10-year seasonal pattern for the WisdomTree U.S. High Dividend ETF (NYSE: DHS). This exchange-traded fund (ETF) holds a diverse group of income stocks like Exxon Mobil Corp. (NYSE: XOM), AT&T Inc. (NYSE: T) and Pfizer Inc. (NYSE: PFE).
After a slow start to the year, the sector turns higher but doesn't pick up a lot of momentum until the end of August. Then it rallies.
We are at the end of August right now, and I'm looking for this sector to be an outperformer in the last few months of the year.
The best way to capitalize on the rally is with individual stocks. But the entire sector will see a decent move, and an ETF is the easiest way to trade it.
Plus, the ETF yields a decent 3.3% dividend.
I want to point out, though, that even though a 3.3% dividend yield is a solid amount, we are not looking at that to benefit from the income sector.
The real purpose of adding income stocks now is to benefit from a rise in price they typically see at the end of the year.
Income stocks are already on the move, as interest rates remain subdued.
President Donald Trump has been outspoken about the need to keep rates low to support the economy, and that is great news for income stocks.
This rally is set to continue through the end of the year, and the WisdomTree ETF is an easy way to benefit.
Regards,
Chad Shoop, CMT
Editor, Automatic Profits Alert