Oil's rally in the first half of 2018 — in the face of all doubt — was reversed for the second half of the year.
OPEC, the group of oil-exporting nations, promised production cuts after oil fell back to levels around $50 a barrel. Skepticism lingered over the future of oil prices as Russia mulled its decision to cut production.
Russia recently announced that it would join OPEC in cutting oil outputs. Combined, the nations will remove 1.2 million barrels of oil off the market per day. That's about a 1% cut in global production.
But even with major oil producing nations pointing towards production cuts, oil continues its route lower.
Oil Prices Plummet as the Market Weakens
Oil is no longer being driven by supply concerns. Demand has the wheel — and markets fear a crash.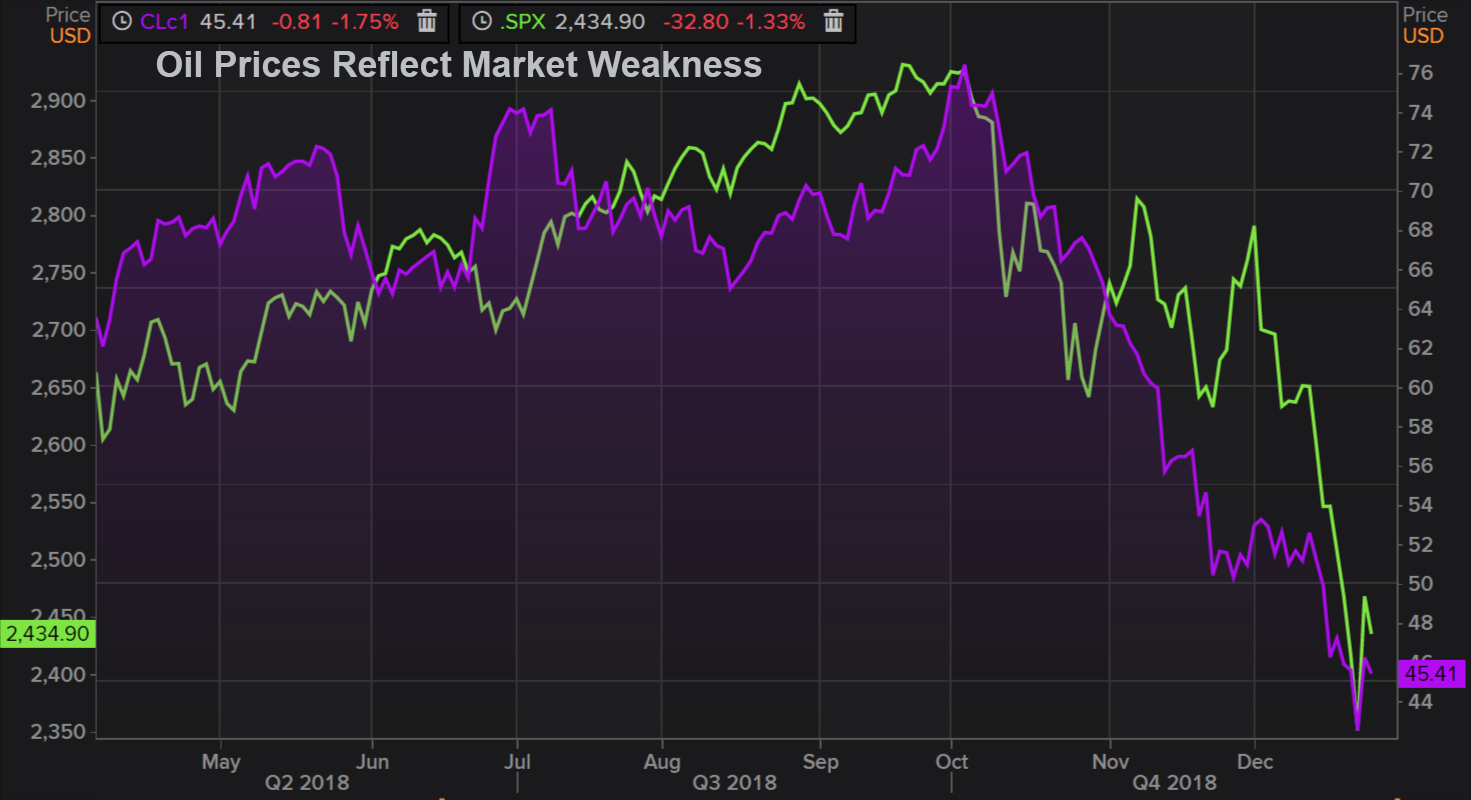 West Texas Intermediate crude oil is trending alongside the S&P 500 Index. That means investors believe that economic growth will be the biggest driver for the price of oil.
If the markets slow and demand falls, oil will continue to sink.
This setup is creating a huge opportunity. With pessimism weighing on oil, even a slight improvement in outlook could send it soaring.
That's exactly what happened on December 26. A 3% run-up in the S&P 500 saw an 8% rally in oil. Both erased some of those gains the following day, but it serves to prove a point.
Taking Stock
The stock market is at times a gauge of investor sentiment.
The Federal Reserve maintains that the economy is healthy. Growth will slow modestly from 2.5% to 2.3%. Unemployment and inflation are expected to remain low.
But the stock market is selling off as it comes to terms with slower growth. In the absence of a weakening economy, we only need a change in sentiment to see the market — and oil — rip higher.
Consider adding the SPDR S&P Oil & Gas Exploration & Production ETF (NYSE: XOP) to your portfolio.
This basket of major energy producers is 42% off its 52-week high. Supply cuts and a turn in sentiment could see shares double in the following year.
Good investing,
Anthony Planas
Internal Analyst, Banyan Hill Publishing