A marathon runner starts a race topped off with energy. During the race, the runner struggles to keep up the pace as he or she gets tired.
Then the runner suddenly gets a burst of energy. A second wind.
Stocks often experience something like this.
Traders rush into a stock, and it takes off. Then the price suddenly drops. But once the stock gets a "second wind," the uptrend resumes quickly and effortlessly.
The following chart of the SPDR S&P Metals & Mining ETF (NYSE: XME) is a classic example.
The red triangle in the chart above is what traders call a "pennant" formation. It's a period when a stock loses its trend.
And it's a telltale sign that the price is about to break out.
It's a lot like the second-wind phenomenon, where a tired athlete's performance increases without any additional effort.
The exchange-traded fund in the chart above climbed 30% in the second half of 2017. It's finishing up a pennant formation now and is about to get a second wind.
Traders can jump in today and look to make 12% on XME by the beginning of September. And then some.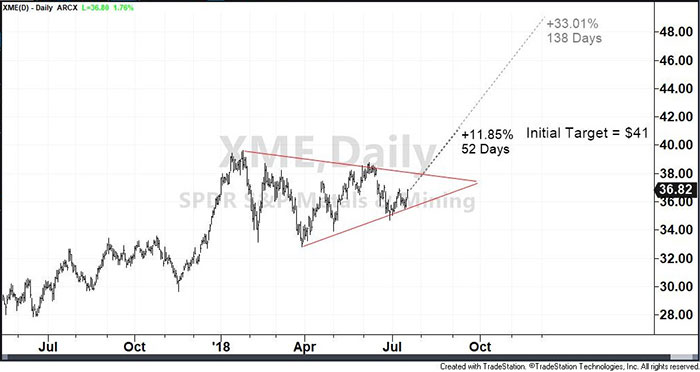 My trend analysis suggests XME could rally 33% in the next six months.
In addition, market sentiment and global growth bode well for the metals and mining sector. If you'd like to read more about why, check out what I wrote in May about my outlook for commodities and natural resources.
Of course, there is risk in any trade. In this case, it's well worth it.
If the price of XME falls below key support at $35, it might make sense to cut it loose. It would be a 3% loss, but that's a small price to pay for the chance at making a double-digit return in the coming months.
Good investing,
John Ross
Senior Analyst, Banyan Hill Publishing