VIX, the widely followed market volatility index, is still near record lows most days. But VIX only goes back to 1990. So a low VIX tells us volatility is only low compared to what it's been in the past 27 years.
Stock market data goes back much further than 1990. Data for the Dow Jones Industrial Average, for example, dates back to 1896.
However, there is an indicator that duplicates the VIX. It's called the VIX Fix. Technically, it's a stochastic model of the lows.
Visually, the VIX Fix is a perfect match to the VIX Index. It lets us calculate market volatility for any stock over any time frame.
The chart below includes the VIX Fix at the bottom. A blue rectangle highlights the range of the indicator over the past year.
Using the VIX Fix, we can see what volatility was before 1990. That's helpful when putting the current market into a long-term context.
In the early 1900s, market volatility was often as low as it is now. That's shown in the next chart.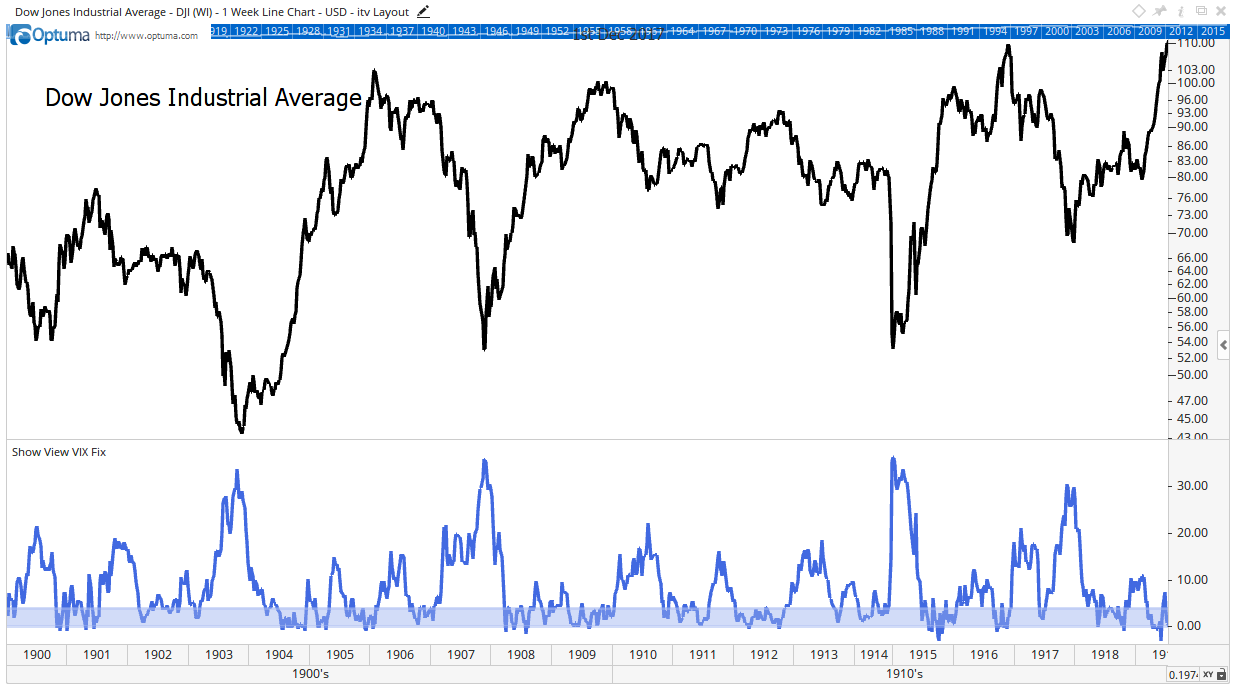 Volatility was also this low in the bull markets of the 1920s and 1950s. In fact, the VIX Fix shows market volatility was near the current level throughout most of the 1980s as the greatest bull market in history was underway.
Low volatility was normal from 1900 to 1990. After that, there was an increase in volatility. Volatility was especially high from 2000 to 2009 as two bear markets unfolded.
Now, volatility is returning to its historic average. There's no reason to panic about that. Low volatility, throughout history, has been a sign of a bull market.
Regards,

Michael Carr, CMT
Editor, Peak Velocity Trader
P.S. My Precision Profits trading system is the culmination of my life's work. Before sharing my insight to the public, I personally put $300,000 of my own money on the line testing out my trading strategies … and now I want to bring the powerful results this system helps me deliver to as many people as possible. That's why on Thursday, December 7, at 1 p.m. EST, I'll be revealing the details behind this strategy for free at my Precision Profits Investment Summit. To sign up, click here now.