We wrote it. Did you buy it?
Back in January 2018, we told you:
This year should see those commodities (and others) soar.
The reason is simple … commodity prices are too low right now.
If you are a fund looking for a solid return on your investment, those numbers are attractive. They will attract investment, which will drive the price higher.
Commodities Research Bureau
That trend is still intact and moving ahead. You can see what I mean in this chart of the Commodities Research Bureau (CRB) Commodity Index: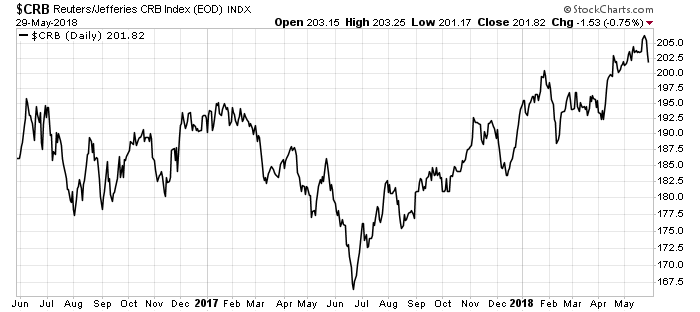 It's made up of 19 fundamental commodities. As you can see, since January 1, 2018, the CRB rose 5% this year.
And it's poised to go up much more.
Commodity Prices Keep Going Up
Just look at the makeup of the index: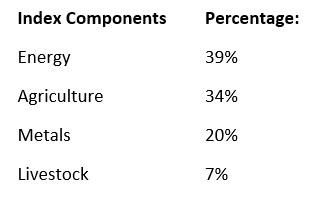 When we look at the makeup of the index, we see several areas of rising prices. Energy prices are up substantially since January. Corn prices are up 15% this year. Wheat prices are up more than 23% this year.
Those trends drove the commodity index higher. The metal complex, surprisingly, lagged so far in 2018.
The copper price is down over 7% this year. The price of gold is flat for the year. The silver price fell 7% so far this year.
I expect that trend to reverse shortly. All the metals' prices should finish the year much higher than they are today.
Just the Beginning
So far, 2018 lived up to our expectations through the first five months. However, it should perform even better through the rest of the year. This is just the beginning.
The reason is simple … commodity prices remain too low. Metals like copper and zinc are in high demand. The oil market got much tighter. And agricultural stocks are soaring.
If you want a solid return on your money with lower risk than a mining or oil company, a general commodity fund is perfect.
The straightforward way for us to play that trend is to buy an exchange-traded fund (ETF) like the PowerShares DB Commodity Index Tracking ETF (NYSE: DBC) or the iShares S&P GSCI Commodity-Indexed Trust ETF (NYSE: GSG). These funds track commodity prices to give us exposure to the whole sector.
Good investing,
Matt Badiali
Editor, Real Wealth Strategist