"It's been an exciting week for steel!" is not a phrase you hear often in regular trading circles.
Unless you are Matt Badiali, Banyan Hill's own geological specialist and commodities expert, you probably haven't paid much attention to steel and base metal pricing. The prospects and performance of steel sector mainstays like U.S. Steel Corp. (NYSE: X) and Cleveland-Cliffs Inc. (NYSE: CLF) have largely gone unnoticed by mainstream investors. Tech has ruled the financial headlines so far in 2018.
But that likely changed Thursday. The U.S. imposed a 25% tariff on steel imports from Canada, Mexico and the European Union. It was major headline news, and prompted a sell-off in the markets across the board.
The politics are complicated, but analysts appear to agree on one thing: This is a bargaining move by the Trump administration. In short, the U.S. is looking to renegotiate several trade deals and is using these tariffs as leverage.
For investors, this is a key takeaway from Thursday's news. Despite the potentially temporary nature of these tariffs, steel stocks soared. U.S. Steel and Cleveland-Cliffs rallied on hopes for higher steel prices and increased domestic demand.
The result has many investors wondering if now is a good time to consider adding steel stocks to their portfolios. Today, we're going to take a look…
Steeling Your Resolve
Steel prices are soaring. In fact, they have gained more than 38% since the U.S. Commerce Department launched a Section 232 investigation last year. That investigation led the Trump administration to impose a 25% tariff on steel imports and a 10% tariff on aluminum. With the exemption for Canada, Mexico and the EU expiring yesterday, steel prices will continue to climb.
Unsurprisingly, steel sector stocks have followed suit. The VanEck Vectors Steel ETF (NYSE: SLX) has rallied more than 37% in the past year, bolstered by gains from heavy hitters U.S. Steel and Cleveland-Cliffs. But, as you can see from the chart below, 2018 has been rocky for steel stocks.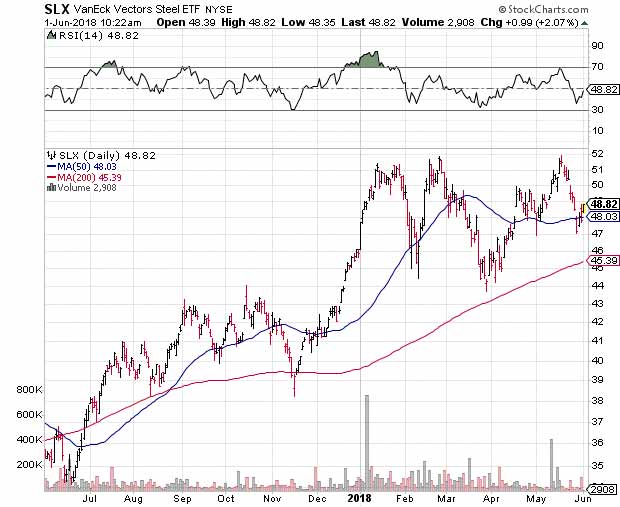 In fact, rising steel prices are a dual-edged sword for the industry. On one hand, it allows it to raise prices and rake in more revenue. On the other, it raises the cost to consumers who are already feeling the pinch of higher interest rates.
Analysts are already projecting the repercussions of high steel prices. Simona Gambarini, a commodities economist at Capital Economics, recently said: "While the tariff appears to have been successful in stimulating domestic output, high prices are proving self-defeating." Gambarini forecasts that steel prices will end the year down 20% from current levels.
We are already seeing erosion in price supports for steel. Housing construction has slowed this year following a rush to buy ahead of the Federal Reserve's interest-rate hikes. Furthermore, auto sales have also slowed due to higher costs and political back-and-forth over tariffs.
Steel Mining Versus Processing
Should steel prices start to decline, it's going to hurt mining companies like Cleveland-Cliffs first. CLF stock is already in a precarious position, having rallied into technical resistance near $9 per share. That CLF stock didn't rally above $9 after Thursday's tariff news speaks volumes about market sentiment. Traders are worried that the fat margins CLF enjoys right now may not hold through the end of the year.
I expect a sideways trend or a slight decline for CLF stock in the wake of this tariff news. In addition to price resistance at $9, the shares are nearing overbought levels. Look for CLF to consolidate amid the current uncertain political environment.
U.S. Steel, on the other hand, processes raw iron ore into steel products like flat-rolled steel plate and hot-rolled steel coil. A pullback in steel prices would take a bit longer to impact U.S. Steel. But the company is still vulnerable if the housing and auto markets continue to struggle.
U.S. Steel stock, which trades under the ticker X, was already showing some wear and tear in 2018. The tariff news provided a quick bump in share price and overall market sentiment. What's more, this rally could hold as the Trump administration negotiates steel tariffs.
Looking at the chart below, $40 is a key level for X stock. I believe the shares are a buy up to $40, with a breakout over the next couple of months highly likely. As long as the tariffs remain, U.S. Steel has pricing power, and that should boost the company's revenue expectations for the year.
Finally, if you are looking for more expert advice on mining and commodities stocks and how they can help you make considerable gains in your portfolio, you should check out Matt Badiali's Real Wealth Strategist.
Until next time, good trading!
Regards,
Joseph Hargett
Assistant Managing Editor, Banyan Hill Publishing
Editor's Note: While attorney and former U.S. Congressman Bob Bauman still believes the United States is one of the best countries in the world, the sad yet undeniable fact is that the litigious American legal system has quickly become a nightmare for hardworking people who are "doing the right thing." He wrote Lawyer-Proof Your Life to help people like you regain control of your life so that you don't have to constantly live in fear of being sued. To claim your FREE copy today, click here.