Ron Perelman is a billionaire dealmaker.
Per Forbes, he is the 152nd richest person in the world.
Those who were investing in the 1980s remember Perelman well. He was a corporate raider.
In 1985, his hostile takeover of beauty giant Revlon proved no company was safe.
Revlon was a target because the value of its parts was greater than its stock price. Perelman bought control of the company using $1.8 billion in junk bonds.
Some call Perelman the "Billionaire Bulldog."
Today, he has his sights on another stock with a left-for-dead share price. And recent law changes support the idea.
This is exactly why we follow insiders. To learn about opportunities like this one.
The Government Supports This Idea
Last Thursday, Republicans in the U.S. House said they are in favor of new federal rules on sports gambling. This follows the Supreme Court's May ruling to allow states to open sports books.
The decision removed a law known as the Professional and Amateur Sports Protection Act (PASPA). This law banned states from regulating — and taxing — sports betting.
The 1992 act never stopped gambling … it just forced people to do it illegally.
Governments aren't omniscient. They can't anticipate every effect of their moves. But, eventually, they realize change is going to happen … so they might as well oversee it and collect taxes on it.
GOP Rep. Jim Sensenbrenner of Wisconsin summed up sentiment on sports gambling when he said: "For Congress to do nothing is the worst possible alternative."
No legislation, no revenue.
Compare this to cannabis. When it was illegal, people had to go to their dealers to buy it.
Today, it's legal, dealers' profit margins are down and the government is making money.
A fan of logic chains might say the government has become the dealer. Now, the government wants to be your bookie, too.
And I have no doubt it will…
This Company Will Help
Las Vegas-based Scientific Games Corp. (Nasdaq: SGMS) is helping to make sports betting easier.
Its platform allows people to bet online, at a retail location and via its self-service betting terminals.
This past June, it announced it would help the Delaware Lottery expand its sports betting. Delaware became the first state to add full-scale sports betting after the PASPA ruling.
Scientific Games previously helped the state offer legal sports betting on pro football. It has now expanded to other sports.
Since 2009, the company helped the state grow its sports betting revenues by nearly fivefold. More growth is likely now that the state can offer head-to-head betting on single games,
Delaware Gov. John Carney placed the first sports wager on June 7 at Dover Downs Race & Sports Book.
A Strategic Acquisition
Scientific Games combined with NYX Gaming Group at the start of the year to grow its lottery, gaming and sports betting offerings. That bet paid off when the sports betting ban went away in May.
The combined company supplies more than 150 lotteries globally. This includes nearly every North American lottery.
It is also seeing growth in its Interactive Games division. The division's sales doubled from 2015 to 2017, up to $428 million. Its operating income more than doubled in this division over that period, too.
The division has generated more operating income in the first six months of this year than it did in all of last year.
Insiders Are Paying Attention
Our bulldog corporate raider, Ron Perelman, hasn't missed that.
On August 13, he bought 175,000 shares of Scientific Games for less than $32 per share.
He sees value there.
And he should know.
Perelman is the chairman of Scientific Games. He took advantage of the recent price weakness to grow his position. He now owns 38% of the outstanding shares.
The last time Perelman reached into his own pocket to buy shares was 2015. Shares have more than tripled since.
He knows what he's doing.
And three other insiders agree with him.
One of the company's directors — Barry Schwartz — is the most recent buyer. He has taken advantage of the drop to buy shares at $30.35 and $24.76.
The last purchase may have marked the bottom of the stock's slide. It hasn't closed below that price yet.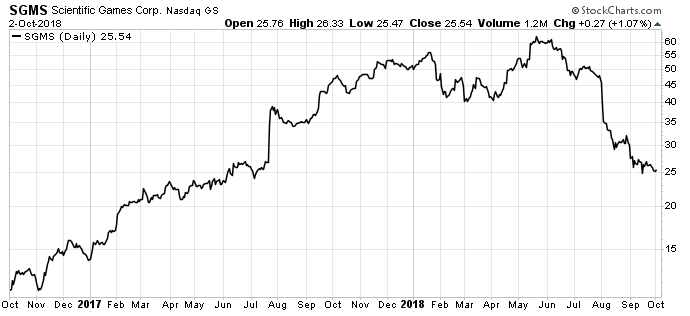 When Scientific Games reports its earnings on October 22, we'll have a better idea if the growth in gaming is good for earnings and for shareholders.
These insider buys suggest it will be.
You may want to consider buying shares … especially if they regain some positive momentum and close above $27.50.
Good investing,
Brian Christopher
Senior Analyst, Banyan Hill Publishing