A few weeks ago, I wrote an article that explained why augmented reality (AR) will see a breakthrough year in 2018. But one area in that article I did not highlight as much was the current state of the AR glasses industry.
While mobile apps are the place that has seen the largest amount of attention recently, huge companies such as General Electric and Boeing are already using smart glasses in their manufacturing processes.
In fact, IDC expects the global market for AR glasses alone, a single part of the overall AR market, to be $48.7 billion by 2021, from just $209 million in 2016. That's growth of about 291% per year! And that's not a number you see too often in reliable market forecasts.
The Growing Augmented Reality Market
AR smart glasses are already coming in handy for employees in fields such as maintenance and warehouse workers.
For example, the glasses can project directions or instructions on where to deliver items in a warehouse or how to use certain types of machinery. Forrester forecasts that over 14 million workers in the U.S. will be wearing these glasses by 2025.
To take advantage of this growing market, I believe Vuzix Corp. (Nasdaq: VUZI) has huge upside.
Vuzix is a rare company in that it's a publicly traded stock that's completely focused on AR smart glasses. Most companies that make smart glasses are either huge companies like Google that do hundreds of other things as well, or they're so small they have yet to go public. The point is, it's rare to find a stock that's a "pure play" on AR glasses.
The future is already looking bright for Vuzix stock, not just because of the boom in smart glasses, but because of what it's doing specifically as a company.
Last quarter, for example, it made over $1 million in smart glasses sales alone for the first time in company history. And earlier in the year, it formed a partnership with Toshiba on the basis that Toshiba will order at least $5 million worth of the glasses in the first year.
The Vuzix Blade
Vuzix's Blade smart glasses made headlines recently with their smartphone-like features.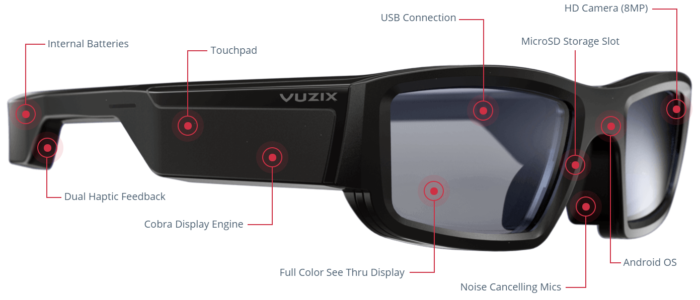 First, they don't have a giant camera in front of one of the lenses like most other pairs of smart glasses do. They also have new, cutting-edge technology built right into them with no outside controls.
For example, you can scroll through the "screens" and select things by using a touchpad built into the side of the glasses (which you'd never know was a touchpad). They even have Amazon's Alexa voice assistant incorporated into the glasses.
Vuzix aims to get the major social networking companies to support Blade with built-in apps and technology.
Why Invest in Vuzix Stock?

Vuzix has expanded globally, now selling its products to 50 countries worldwide. As it continues to build partnerships with big tech companies like Toshiba, its sales will grow even more by volume and also location.
The release of Blade in mid-2018 should also be huge, as it won several awards at CES 2018, one of the largest tech events in the world, and is one of the most eagerly awaited players in the AR field.
Vuzix still has a quarter left to report for 2017, but its revenue for that year is expected to total about $6 million, which is almost three times what it made in 2016. But two years from now, it is projected to make $70 million — an increase of over 1,000%!
With high-growth stocks that are completely immersed in hot industries like AR, a company's value could be at least 10 times their annual sales figure. So, if Vuzix is able to hit that $70 million mark, the company could be worth over $700 million in a couple of years, compared to $204 million today. That would be an increase in Vuzix stock of about 250%!
Overall, I believe that Vuzix will be a key player in the wave of AR technology that will be seeing a huge breakthrough over the next 12 months.
Regards,

Ian Dyer
Internal Analyst, Banyan Hill Publishing
Editor's Note: Natural resources expert Matt Badiali's new strategy is a blueprint anyone can follow — even if they're completely green when it comes to resource stocks — to turn $5,000 into $625,000 within three years. How is that possible? By waiting until all three key criteria are in place, the strategy can slash away a huge chunk of the risk … while still capturing immense, life-changing gains. To find out the three cornerstone traits that lead to gains of 1,000% or more, you must sign up for Matt's exclusive webinar presentation by tomorrow, January 24, at midnight EST. To sign up, simply click here now.