"Ha! You fool! You fell victim to one of the classic blunders — the most famous of which is 'never get involved in a land war in Asia'…" — Vizzini, The Princess Bride
It's not a good idea to mess around too much in Asia. Just ask Napoleon, Alexander the Great, the Russians, the Germans, the Japanese, etc. It generally doesn't turn out all that well.
With $34 billion in Chinese tariffs going into effect today, the U.S. is about to be reminded of that fact.
But there are exceptions to the growing "don't mess with China" mantra on Wall Street. Clearly, international corporations that rely heavily on imports and exports are in questionable territory. Red hot Chinese tech firms such as Tencent, Alibaba and Baidu, however, still derive a majority of their rapidly growing revenue from the mainland.
The reason for this is the same as the reason you "don't get into a land war in Asia." China is simply massive. It's both ecologically and culturally diverse. It has a thriving and rapidly growing middle-class flush with cash. These Chinese consumers can finally buy up all the luxuries Americans have had for years.
And they are doing so digitally. It's the reason why all the red hot Chinese firms on Wall Street are internet and online e-commerce companies. This period in China is like the post-dot-com era in the U.S. The one that saw the rise of Google, Amazon and Netflix.
China has had its own versions of Google (Bidu) and Amazon (Alibaba) for a while. Both are performing extremely well, seeing greater than 50% revenue growth year-over-year just within China.
But what about online streaming? What about the Chinese Netflix? The company just had its initial public offering in April, and you don't want to miss this ground-floor opportunity for massive growth.
The Chinese Netflix
iQiyi, Inc. (Nasdaq: IQ) is the red hot online streaming provider in China. The company delivers everything that Netflix does. In fact, iQiyi licenses quite a bit of Netflix content, including House of Cards, Arrested Development and many Netflix originals. The company's licensing may have opened the door for subscribers, but its original content is currently its biggest growth driver.
For instance, an American Idol type of show called The Rap of China debuted last summer and is currently the most profitable Chinese TV show ever. The show's season finale had 2.68 billion viewers — numbers U.S. broadcasters and cable TV operators would kill for. What's more, the show only cost about $38 million to produce. That's a fraction of the money earned in advertising during the season finale alone.
And iQiyi is doing all of this without expanding outside of China!
IQ's subscriber base grew from 10 million in 2015 to 50 million by the end of 2017. That's about half of Netflix's current global subscriber count.
But what about revenue growth? After all, Netflix continues to struggle with its bottom line due to content and subscriber acquisition spending. In its first quarterly report as a public company, iQiyi said that first-quarter revenue rose 57%, up from 55% growth in the same period a year ago.
And iQiyi has plenty of powerful partners to further that growth. The company was spun off of Chinese tech giant Bidu, which still holds a majority stake. The relationship gives iQiyi access to Bidu's growing artificial intelligence and online search specialties to better help subscribers find and view content they want.
Furthermore, iQiyi just announced a partnership with No. 2 Chinese e-commerce firm JD.com. The partnership allows cross-platform access to both company's premium services for the next year.
Buy iQiyi and Chill
Fear surrounds Chinese stocks on Wall Street right now. Some of that fear is rightly placed, as the trade war is likely to impact a broad range of companies. But iQiyi's growth has come completely from within China.
The company has plans to eventually grow outside Chinese boarders, but for now, it doesn't need to. It can wait out the current trade situation and continue its impressive growth within the Chinese middle class. By the time this all blows over, iQiyi will have even more resources to expand globally.
As a result, Wall Street's negativity toward Chinese stocks plays right into our hands. IQ shares have pulled back from their mid-June peak near $45. As you can see from the chart below, a sell-off was needed anyway — IQ's relative strength index (RSI) had traded in extreme overbought levels north of 70 for several weeks.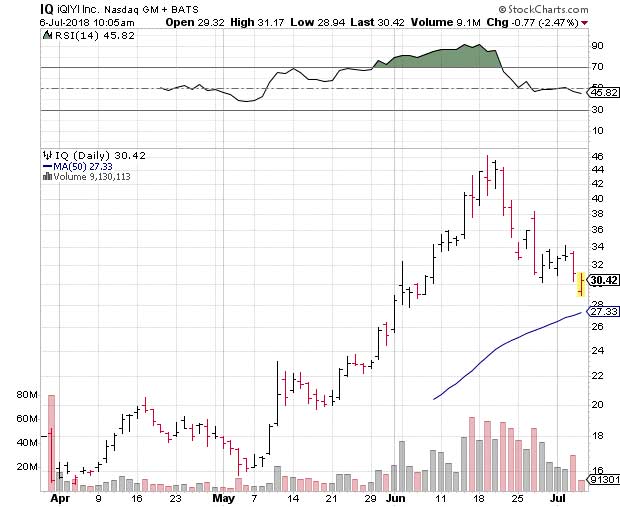 The sell-off has shaken out many of the weaker and more speculative investors, leaving IQ stock to trade a bit more fairly for the time being. Many investors are already seeing IQ stock's potential, and support is emerging in the $30 region. IQ is certainly a buy here.
The shares' 50-day moving average is currently rising into the area, near $27.50. A pullback to this trendline amid the current market trade malaise would be a prime buying opportunity for bargain hunters.
In conclusion, IQ is a buy in the $27.50 to $31 range right now. And you won't have to go to war in Asia to add this one to your portfolio.
Until next time, good trading!
Regards,
Joseph Hargett
Assistant Managing Editor, Banyan Hill
P.S. While iQiyi stands to be a bright spot within the market, the trade war will increase the country's exposure to market turmoil and uncertainty. And this is definitely not the only weak spot our economy is facing. Click here to watch Ted Bauman's special report on the crash our market is racing toward and learn what you can do right now to protect your portfolio.