Back in March, I showed you the same chart I'm about to show you below. But at the time, it was a chart warning of a bear market.
Today, it's a chart showing the S&P 500 Index is set to continue climbing higher.
It's all based on two stock market averages, and how the market reacts once they cross each other.
In March, there was a bearish indication, and more volatility followed.
A Bullish Indication
Now we have a bullish indication as the averages are set to cross again, and I expect a major rally to follow.
Take a look: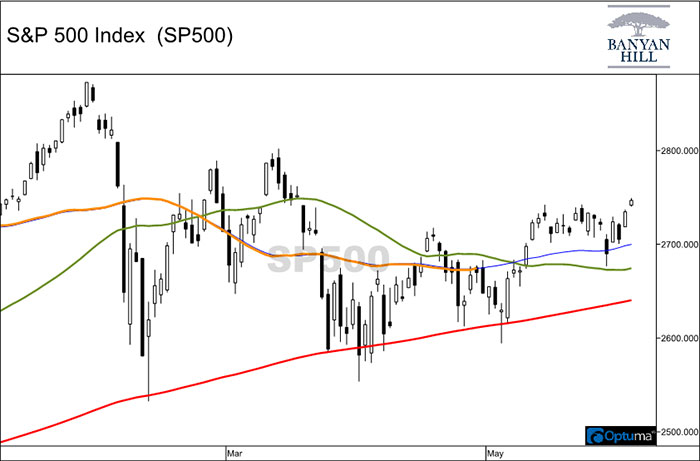 The red line on the chart is a simple 200-day moving average. The green line is the 50-day moving average, and the orange line is the 50-day moving average offset by 25 days.
The blue line is my forward indicator. That's because the orange line is offset by 25 days, so until the data is 25 days old, this line isn't formed yet. The blue line takes in the data as it rolls in, adjusting the offset 50-day moving average for new data.
This gives us an idea on where the orange line is heading, and right now, it shows that the market is about to take off.
The last time a similar scenario occurred, where we saw a bearish signal followed by a bullish signal a few months later, was in 2015.
It actually took another dip lower, but that was because the orange line never crossed above the red line.
So that is our cue to expect further gains, and the blue line indicates that's a high possibility at this point.
When this happened in early 2016, the S&P 500 rallied 20% over the next 12 months — we can expect another double-digit rally this time.
Regards,
Chad Shoop, CMT
Editor, Automatic Profits Alert
Editor's Note: Imagine what it would be like to turn every $5,000 you invest into $200,000. You could pay off your house and enjoy a luxury vacation — all in as little as 12 months. Well, beginning in just a few more days, this so-called dream could become your new reality … because on June 12, Wall Street legend Paul is going to reveal a new breakthrough strategy designed to zero in on some of the fastest, most profitable investments currently exploding across the market. In fact, Paul has personally used this strategy to make 12 TIMES his money in less than 10 days. To get full details and secure your access to this landmark event at 1 p.m. EDT on June 12, click here.