"I don't like the idea that I'm not in control of my life."
There are a lot of quotes I love from The Matrix, but that one resonated the most deeply. Maybe it does the same for you.
Neo, the main character who utters that line, is an average computer programmer by day, hacker by night. He's suddenly shown that the world he's always known is a complete fiction — a scripted fantasy that hides an insidious reality.
Clearly, he's not in control of his life.
What I find ironic is that Neo was a hacker … and that pursuit in itself removes control from others. The entire idea of hacking is that it strips someone of control over their personal information, their privacy.
I'll readily admit … that's a big fear of mine. (After all, as many of you know, my mom's identity was recently hacked.)
In fact, it's a big fear for the world right now and rightfully so. Our control over our lives — over our private information — is constantly at risk nowadays.
To this day … hundreds of millions of Americans have had their information compromised and more than 12 new people are hacked each second.
We hear about a massive hack almost every week. In fact, one happened recently, which is why this topic has been on my mind.
On Thursday, the cybersecurity company Appthority broadcasted a warning: A simple coding error — one that's in at least 685 smartphone apps — that put about 180 million users at risk of being hacked.
Their private calls and text messages were vulnerable.
So what exactly happened?
It seems developers accidentally coded credentials for accessing services provided by Twilio, a cloud communication platform that serves 40,000 businesses globally.
Cybercriminals could easily access those credentials by reviewing the code in the apps — and steal any data sent over those services. To be clear, this only affected calls and texts made inside apps that use Twilio's messaging services.
Possible victims include users of the AT&T Navigator App — which comes with most Android phones. More than a dozen GPS navigation apps provided by Telenav are also at risk.
These apps have been installed a whopping 180 million times on Androids. (We don't have the number for iPhones.)
And the more I read about this coding mistake, the more troubling it seems.
Business apps for recording calls, like Wrappup and RingDNA, were at risk.
Appthority also found credentials have been coded for about 902 developer accounts that use Amazon Web Services. Those credentials could access app user data stored within Amazon.
All of this tells me that now, more than ever, we should be doing everything we can to protect our data. Because trusting the companies we use, and their third-party services, just isn't going to cut it.
It's time to take control over our information again.
That's why I keep urging you to consider a protection plan — and fast.
Don't make it easy on hackers. More than 80% of cyberattacks involve weak passwords. So, at the very least, strengthen your passwords. Use at least 16 characters that include numbers, letters and special characters. Create unique logins.
And record all of your information using a secure password management software.
If this seems overwhelming, don't worry. You can learn how to get started here.
Meanwhile, as an investor, I also urge you to pay attention to the cybersecurity industry. This is how you'll find out about the companies developing the tools to stop hackers in their tracks.
You can read more about that here.
In the end, we all want to feel in control of our lives — and these steps will help us get there.
Regards,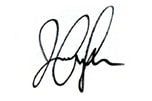 Jessica Cohn-Kleinberg
Managing Editor, Banyan Hill Publishing